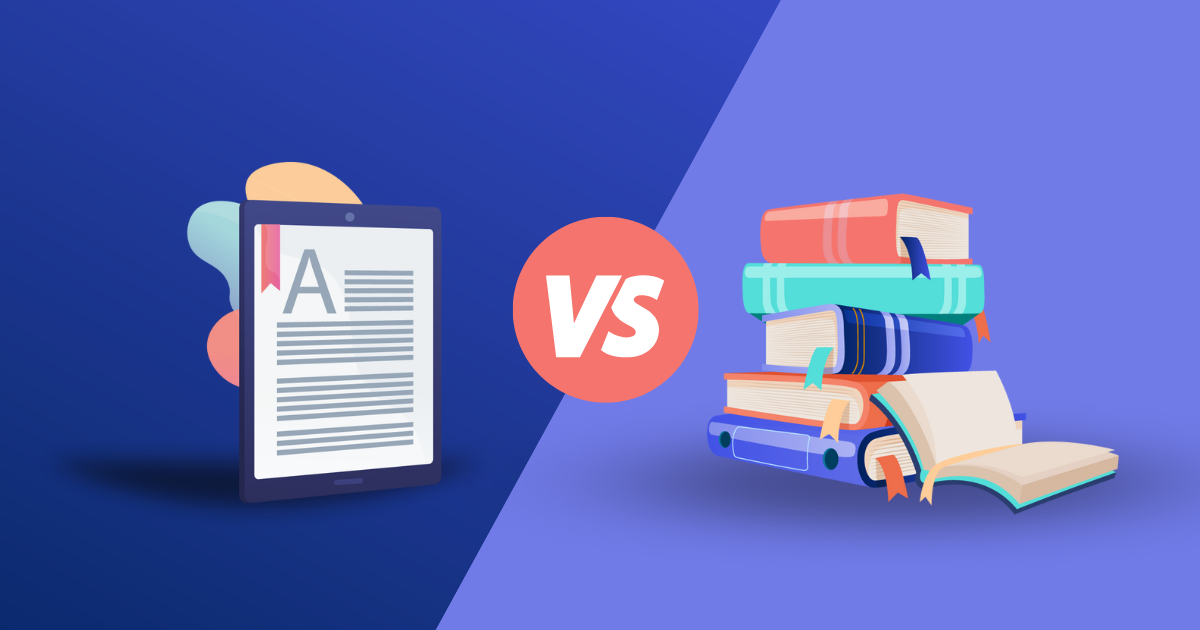 What is the difference between ebook and paperback? Valid question, especially when it comes to learning how to format an ebook or print book for self-publishing. You're having to take on a lot as an indie author or publisher. So here's what to know, in the simplest way possible –
First, the similarities between ebooks and printed books
Print book refers to printed pages bound together by either hardcover or softcover (aka paperback). This is your physical, traditional book.
Ebook is a digitally formatted file that's read on an e-reader like Kindle or an application like Apple Books.
The similarities of ebooks and printed books include elements like the cover design, title page, copyright page, author bio, table of contents, chapters, and paragraphs.
Now, the difference between ebook and paperback
The main difference between paperback and ebook is that the layout of print books is static while the layout of ebooks is dynamic. Pretty much, once content gets printed on paper, it does not change (obviously). But because ebooks are digital, their layouts are not permanent, meaning they can alter and change. This is also called re-flowable text.
What's re-flowable text? It's what significantly differentiates ebooks from print books. If we were to get technical with it, PCMag.com explains it as "the ability to automatically wrap words in a document to the next line as the user changes the window size and thereby relocates the right margin of the page."
To see re-flowable text in action, try opening your book file in Microsoft Word. Go to Menu View, then Web Layout. You'll see the lack of "pages". Go ahead and resize your screen smaller and larger. Notice how the text "wraps" or adjusts to the size of the screen? That's re-flowable text.
Ebooks don't necessarily have "page numbers". And that's because re-flowable text adjusts to the size of the screen, meaning page numbers won't be the same across different devices and apps. Therefore, unlike print books, the reader can not navigate the contents of a book by page numbers.
Instead, the reader can use the table of contents that is hyperlinked to individual chapters and sections. The reader can also use the search function (that comes with most e-readers) to search for specific words or topics.
A handful of other differences to know:
Ebooks do not have headers or footers like print books. Footnotes are "endnotes" instead.
Most e-readers cannot handle complex image placements like print books. So images must be in line with the text, plus centered.
Charts, tables, and columns gets converted to images in order to show up smoothly in ebooks.
The font types and sizes in ebooks are formatted more simply than prints. That's because readers can customize the font type and size with most e-readers.
Now you're aware of the differences and similarities of ebooks and printed books. What next? Here's a guide on how to format an ebook. And be sure to bookmark this free ebook converter to generate your final ebook when ready.
Last two cents on what to self-publish: ebook vs paperback
If you've got your final manuscript ready and you're wondering whether to self-publish it as an ebook or print, why not both? In fact, distributing your book in multiple book formats like ebook, print, and even audiobook is a best practice you don't want to miss. How come? As in indie, you want to maximize your revenue streams. Providing your book in different formats means reaching different audiences.
What to know:
Print is still one of the most popular mediums. With today's print-on-demand technology, you can self-publish without having to invest a lot of money in advance. Learn more about print-on-demand.
The ebook market continues to balloon. On PublishDrive, tens of thousands of indies saw digital book sales more than double last year.
Audiobook is THE fastest growing online segment in publishing. In the U.S., one in five people now listens to audio. It's fairly simple to turn your manuscript into an audiobook too: learn how to audiobook.