Publishing-Industry
Book Distribution in Spain: Choosing an Aggregator to Go Locally and Extend the Reach Globally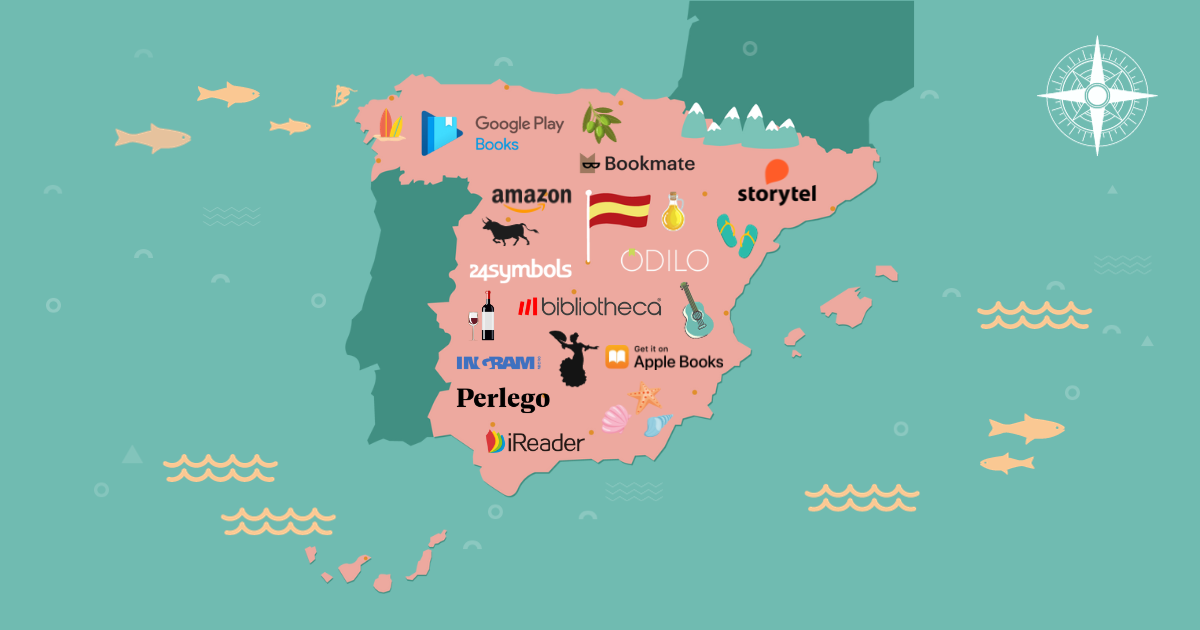 The book industry is one of the largest and most profitable cultural sectors in Spain. One reason is that Spain sells many books to other countries. 
Spain is known for translating books into different languages, and this helps their book business succeed globally. English, French, and Spanish are the top languages for translation, even though languages like German and Japanese are getting more popular.
So, if you're a Spanish book publisher or an author who wants to expand their reach in the country and internationally, now is the time – especially with the self-publishing platforms that facilitate global distribution.
This is also a great opportunity for writers and distributors from other countries who focus on languages that interest Spaniards.
This article goes over numbers from the Spanish publishing market that show Spain's interest in the book industry, Spanish book publishers, and how to reach a global audience through extensive book distribution in Spain and beyond.
How the Spanish Publishing Market Looked In 2021*
The book industry's sales revenue in Spain amounted to approximately 2.58 billion euros, up almost six percent from 2.44 billion euros a year earlier, when non-fiction and non-academic textbooks accounted for nearly 60 percent of book sales in Spain.

There were 198.13 million book copies printed in Spain compared to 181.3 million copies in the previous year.

The non-fiction segment accounted for about 30 percent of book sales revenue. Non-academic textbooks and fiction followed with shares of 28.6 and 21.3 percent, respectively. Novel sales revenue in Spain surpassed half a billion euros in 2021.
*Data from Statista:
How the Spanish Publishing Market Looked In 2022*
In five years, Spain has seen a 15% growth—11% growth over levels before the COVID-19 pandemic.

The children's and youths' sector grew 8.6 percent, and adult fiction grew 8.5 percent over 2022 levels.

There were 83,091 titles in 2022. Of those, 57,125 titles were published in print, and 25,966 were published in digital formats.

In unit sales, the sector increased the number of copies sold by four million, with an average price of €14.40 (US15.85).

In digital books, Spain's market increased turnover by 3.3% to €139 million (US$152.4 million).

Bookstores and bookstore chains remained the main distribution channels, accounting for 53.9% of sales.

Sales of print in online retail continued to grow.

In overall sales in foreign markets, the book sector increased by 3.6% to €403.1 million (US$442 million). Exports in the book sector grew by 1.0% to €348.5 million (US$382.2 million).

Saw an increase of 24.3% to €54.6 million (US$59.8 million) in graphic novels.

Latin America continues to be the main area for Spanish exports. In 2022, the book sector exported books worth €182.4 million (US$274 million), which is 0.98% above the exports of 2021.

Spain's publishing industry exported to other parts of the European Union, amounting to €146.3 million (US$160.5 million).

Mexico is the top destination for Spanish exports with €63.5 million, followed by France with €61.7 million, Argentina with €31.3 million, and Italy with €23.2 million.

The federation's report indicates that digital formats continue to make progress in Spain's marketplace.

The number of published titles in digital formats increased by 7.4%, reaching 25,966. Spain's 2022 digital catalog reached 193,853 titles.
*Data from the Federation of Publishers' Guilds of Spain, FGEE via Publishing Perspectives:
How to Reach the Spanish Book Market & Other International Markets with PublishDrive
PublishDrive is a one-stop shop for self-publishing and distributing ebooks, audiobooks, and print-on-demand books internationally. 
Our extensive book network helps you reach Spain and other countries. So, if you want to go past the Spanish publishing companies, an aggregator like PublishDrive is your answer. And it works perfectly even for Spanish publishing houses that want to distribute books easily to other countries.
Data on the publishing industry trends in Spain from PublishDrive, showcasing 2023 sales data up until July compared to last year's same period.
English language books had a 13% increase in sales 

Books in other languages had a 27% increase in sales
PublishDrive Stores Focusing on Spain
If you're a Spanish publishing house or an author who wants to make a living out of your writing (aka be an authorpreneur) you should start publishing and distributing your books internationally. This is known as publishing wide, and it opens up many great opportunities to be discovered faster.
We have stores that have Spain as one of the main territories they distribute to, but you can always choose to distribute to other countries (as you'll see in a minute).
1. Google Play Books and Audiobooks
Google Play Books is a versatile digital platform offered by Google that allows users to access and enjoy a vast collection of ebooks and audiobooks. With a user-friendly interface and a wide variety of reading options, it provides a seamless reading experience across different devices, such as smartphones, tablets, and computers.
With PublishDrive distribution, you'll access: 
46 stores from Google Play Audio

75 stores from Google Play Books
2. Bookmate (ebooks and audiobooks)
Bookmate is a digital reading subscription service that offers access to a vast library of ebooks and audiobooks for a monthly fee. Users can read and listen to a wide range of titles on various devices, with personalized reading recommendations and social features for sharing and discussing books.
With PublishDrive distribution, you'll access: 
3. Storytel (ebooks and audiobooks)
Storytel is a digital audiobook and ebook subscription service that provides users with access to a vast library of audio content and ebooks for a monthly fee. It offers a wide selection of titles for streaming or offline listening, making it a popular platform for audiobook enthusiasts and readers alike.
4. 24symbols
24symbols is a digital reading platform that offers a subscription-based model for access to a diverse collection of ebooks. Users can read and discover books across multiple genres and languages on various devices.
5. Odilo
Odilo is probably one of the most prominent book distributors in Spain that PublishDrive works with. It's a digital content platform that primarily serves libraries and educational institutions, providing access to a wide range of ebooks and digital resources.
With PublishDrive distribution, you'll access: 
6. Bibliotheca
Bibliotheca, another popular book distributor in Spain, is a global provider of library technology and self-service solutions, aiming to modernize and improve library services for patrons and staff through a variety of products and services. 
With PublishDrive distribution, you'll access:
30000 stores from Bibliotheca
7. Apple Books
Apple Books is a premier digital reading platform known for its seamless integration with Apple devices and a vast selection of ebooks and audiobooks. It offers a user-friendly interface, cross-device synchronization, and interactive features, making it an excellent choice for those seeking a comprehensive and accessible digital library experience.
With PublishDrive distribution, you'll access:
51 stores from Apple Books
8. Amazon (ebooks and print-on-demand)
Amazon Books is a prominent online bookstore and retail platform operated by Amazon, offering an extensive selection of print and digital books across various genres. With an efficient e-commerce infrastructure and a robust Kindle e-reader ecosystem, it provides users with easy access to a wide range of reading materials and serves as a one-stop destination for purchasing, downloading, and enjoying books in both physical and digital formats.
With PublishDrive distribution, you'll access:
8 stores from Amazon Print

Up to 13 stores from Amazon 
9. Ingram Distribution
Ingram Distribution is a leading global content and distribution services provider for the book industry. Leveraging a vast network, Ingram enables publishers to reach a broad audience by efficiently distributing books to bookstores, libraries, and online retailers. Their comprehensive suite of services, including print-on-demand and digital distribution, plays a pivotal role in ensuring the availability of books to readers worldwide.
With PublishDrive distribution, you'll access:
40000 stores from Ingram's Network
10. Perlego
Perlego is a prominent book distributor in Spain and a digital learning platform that provides students, professionals, and educators with access to an extensive library of academic and educational content. With a subscription-based model, it grants users the ability to explore a wide range of textbooks, research papers, and learning materials in digital formats.
11. iReader
iReader platform is a prominent digital reading service that offers users access to a diverse range of ebooks, magazines, and other digital publications. With a user-friendly interface and cross-device synchronization capabilities, iReader allows readers to immerse themselves in digital literature on various devices.
This is a distributor list for stores with a strong presence in Spain. If you want to publish internationally, you can pick other stores from our distribution network. We'll email you the list.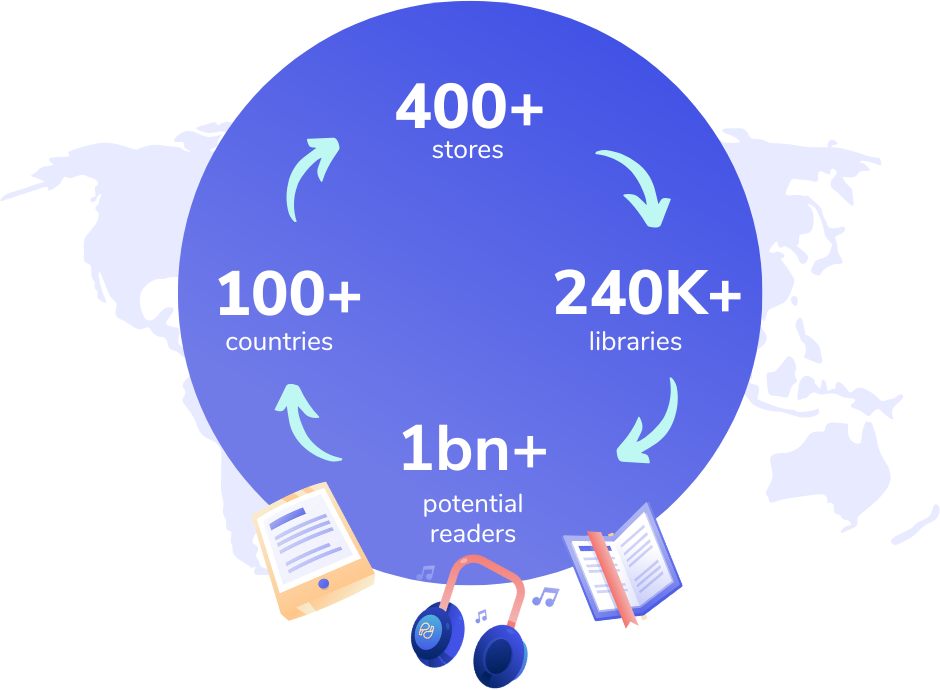 What's More: Book Industry in Spain – Specificities 
Publishing in Spain has several specificities that distinguish it from publishing in other countries. These characteristics are a reflection of Spain's unique cultural, historical, and linguistic context. Some of the key specificities of publishing in Spain include:
1. Language
Spanish is the primary language for publishing in Spain. However, Spain has multiple official languages, including Catalan, Galician, and Basque, leading to a vibrant regional publishing scene in these languages.
2. Cultural diversity
Spain's rich cultural diversity is reflected in its literature. The country has a long history of regional and cultural distinctiveness, which is celebrated in its literature. There is a strong tradition of literature written in various languages, representing different regions and cultures within Spain.
3. Translation
Spain has a long history of translating foreign literature into Spanish. Spanish readers have access to a wide range of translated works from around the world, which contributes to a diverse literary landscape.
4. Literary awards
Spain hosts several prestigious literary awards, including the Cervantes Prize, the Princess of Asturias Award for Literature, and the Nadal Prize, which help to recognize and promote Spanish and Spanish-language literature.
5. Government support
The Spanish government provides support for the publishing industry through grants, subsidies, and cultural promotion programs. These initiatives aim to foster the growth of literature and the publishing industry.
6. Book fairs
Spain hosts numerous book fairs and literary festivals, with the Madrid Book Fair and the Barcelona International Book Fair being among the most significant. These events attract both Spanish and international authors and publishers.
7. Copyright and Intellectual Property
Spain, like many countries, has specific copyright laws in place to protect authors and publishers. It adheres to international copyright agreements and enforces intellectual property rights.
8. Bookstores and libraries
Spanish publishers benefit from a well-established network of bookstores, including large chains and independent shops, where readers can purchase books. Public libraries are also an important part of the reading culture in Spain.
9. Reading culture
Spain has a strong reading culture with a high literacy rate. Literature and books are highly valued, and book clubs, literary events, and discussions are common.
10. Ebooks and digital publishing
Like in many other countries, the ebook market in Spain has been growing, and digital publishing platforms are popular among both traditional and self-published authors.
11. Literary magazines
Spain has a long tradition of literary magazines that provide a platform for emerging writers and critical discussions of literature.
12. Influence of Latin American Literature
Spanish publishers often play a significant role in the distribution and promotion of Latin American literature, and there is a strong connection between Spanish and Latin American literary scenes.
These specificities make the publishing industry in Spain unique and contribute to its rich literary heritage. Spanish publishing companies, as well as self-published authors, benefit from this diverse and supportive literary ecosystem.
Wrapping Up
The Spanish publishing market greatly represents Spain's vast cultural heritage. It's also one of the most profitable sectors of the cultural industry.
If you're a Spanish publisher looking to expand your reach or an author who wants to make a career out of their writing, PublishDrive is here to help.