Book Distribution and Self-Publishing Companies in Canada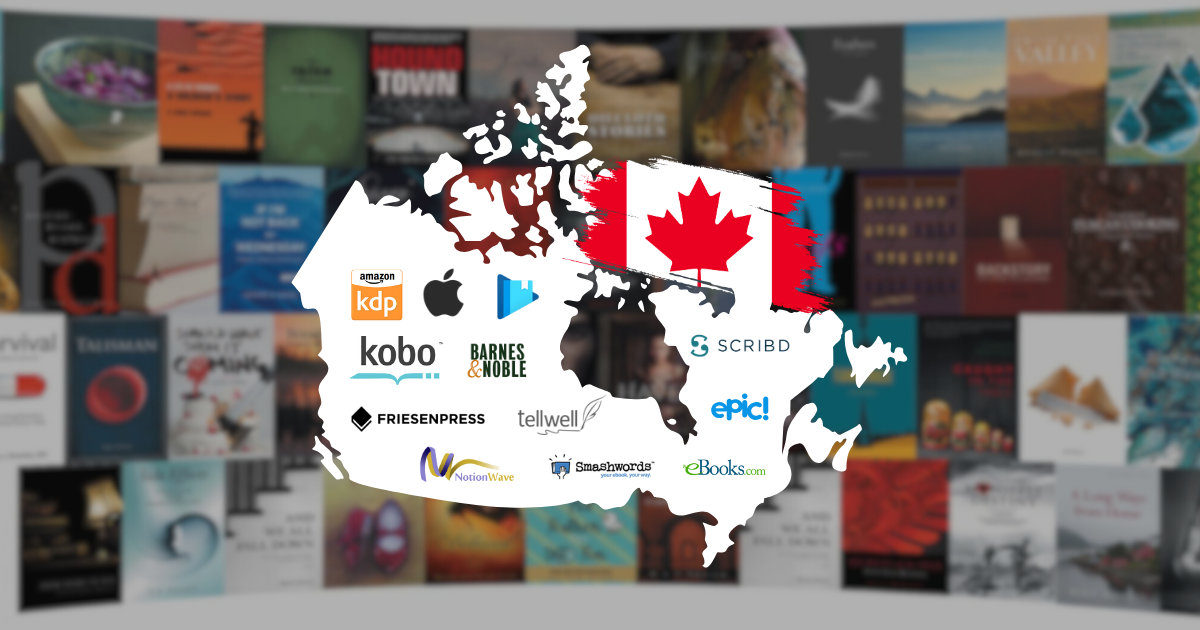 The Canadian ebook market, which has historically lagged behind its U.S. counterpart, has been witnessing a resurgence, especially in self-publishing. 
How do Canadian self-publishing companies distribute eBooks, and how can they expand globally? 
This article shows methods, market trends, and opportunities that Canadian publishers and individual authors can explore to broaden their reach in the book industry.
Outlook of the Canadian Book Market
The Canadian English-language book market in 2023 presents challenges and untapped potential. 
According to SalesData, print unit sales have experienced a 12% decrease in the first six months of this year compared to the same period in 2022. 
This contraction in print sales should not be ignored; however, it has also created fertile ground for alternative publishing channels, particularly for self-publishing companies in Canada.
Genre-wise, the market shows clear preferences. 
⭐ Juvenile and Young Adult titles dominate, claiming 40% of all English-language book sales. 
⭐ Non-fiction follows at 31%, presenting a broad range of opportunities for Canadian self-publishing companies. 
⭐ Romance, Biography, and Autobiography have shown remarkable growth, suggesting that specific niches are experiencing robust demand.
As seen in PublishDrive, Canada shows:
A 44% increase in revenue for English books up until July compared to last year's same period.

A 34% growth in revenue for all languages up until July compared to last year's same period.
While print remains the preferred choice for Canadian readers, accounting for 77% of all book purchases, the digital segment shows a 23% year-over-year decrease. This suggests a market readjustment that could be either a challenge or an opportunity for digital-focused publishers. 
These trends cannot be overlooked for Canadian self-publishing companies looking to innovate and capitalize on these shifts. The book market in Canada is flexible; opportunities and challenges may vary significantly between large, well-capitalized publishers and smaller, independent presses. 
Distribution Channels to Maximize Readership
Here are the most common distribution avenues Canadian publishers use to reach their intended audience and maximize sales. 
1. Online retailers
Amazon Kindle Direct Publishing (KDP) Canada

is a leading platform for self-publishing ebooks. Its user-friendly interface and wide reach make it a favored choice for Canadian authors and readers alike. 

Kobo Writing Life,

a Canadian company, holds significant domestic sway, being closely integrated with Chapters Indigo, a major Canadian book retailer.

Apple iBooks

: provides a comprehensive guide for ebook submissions.
In 2021, the leading e-book vendors include Amazon at 76%, followed closely by Kobo at 71% and Apple at 68%. Other outlets in the mix are Barnes and Noble, Google Play Books, and Scribd.
2. Your own website
Selling ebooks directly through your website can be highly effective, especially for revenue generation. 
Special ecommerce platforms designed for digital downloads can simplify this, though this is not the most popular mean of distribution for authorpreneurs. If this is for you, check Podia, Sellfy, or Payhip.
💡 More on ecommerce platforms in our blog article: 17 Best Platforms to Sell Ebooks in 2023.
3. Email distribution
Email can be useful for disseminating shorter ebooks, particularly those offered for free as a newsletter sign-up incentive. For larger files, an emailed download link can serve the purpose. Make sure to align your email marketing practices with Canada's Anti-Spam Legislation (CASL).
💡 Here are several tactics to build a compelling emailing list.
4. Public libraries
Public libraries offer a strong channel for full-length ebooks. Approximately 90% of Canadian authors take advantage of this. 
For readers, accessing books through a library is a cost-effective and low-risk method to explore new content and authors. 
As a publisher or an author, offering your books in libraries can enhance visibility and increase your royalty earnings. To optimize your audience reach, consider marketing your books to libraries globally through various channels. Essentially, aim for broad distribution.
💡 Here is how and why to get your books into libraries.
5. Distribution aggregators
Aggregators, like PublishDrive, are services that distribute your ebook to multiple platforms at once. They have a wide book network to help you reach a broader audience without the need to submit to each retailer individually.
Subscription-Based Aggregation through PublishDrive
PublishDrive is among the top book aggregators you could choose for your book distribution, whether you're an author or a publisher looking for international audiences. It simplifies publishing, distribution, and book promotion, offering a one-stop resource hub.
PublishDrive works based on a flat fee subscription model, allowing authors and publishers full control over their revenue. 
With a wide array of stores, collaborations, tools, and features, you access an all-encompassing book network designed to grow your business and open new markets, reaching hard-to-get audiences.
Why PublishDrive?
Besides the seamless process of publishing PublishDrive offers, you'll benefit from:
Multi-format distribution

Book distribution to 20+ channels, 400+ stores, and thousands of digital libraries worldwide

Built-in marketing and promotional tools

to help with your books' visibility

In-store featuring: with PublishDrive's featuring option, you can submit your books for a chance to be featured in Written Word Media's websites, in Kobo's app store, and other top retailers, like Apple Books and more

Services like

royalty splitting

 

POD cover template

generator
We offer print-on-demand distribution through Ingram, which sells books in over 40,000 online stores, including Amazon, Barnes & Noble, Baker & Taylor, Walmart, Costco, and other independent bookstores, chain stores, libraries, and universities.
Book publishers in Canada and authors seeking to become authorpreneurs can tap into various distribution channels focusing on their markets & beyond. 
Reach International Book Distribution Platforms Through PublishDrive
Here are the distribution channels to Canada PublishDrive works with. Reach them all in a single click. 
1. Kobo & Kobo Audio
Kobo is a Canadian company offering a wide range of eBooks and audiobooks [Kobo Audio] through its online store and eReader devices. Known for its user-friendly interface and extensive catalog, Kobo is a significant player in the Canadian and global eBook markets.
2. Amazon & Audible
Amazon is the dominant force in the eBook market through its Kindle platform, offering a colossal range of eBooks across genres and languages.
Audible, an Amazon company, is a leading provider of audiobooks and spoken-word entertainment. 
Together, they create a comprehensive digital reading and listening ecosystem.
3. Apple Books & Audiobooks
Apple Books provides a sleek and integrated environment for purchasing and reading eBooks and audiobooks [Apple Audio] on Apple devices. 
Known for its intuitive user interface and seamless integration with the Apple ecosystem, Apple Books offers a premium reading experience for iOS users.
4. Google Play Books & Google Play Audio
Google Play Books offers a vast array of eBooks and audiobooks [Google Play Audio] through its online store. The platform is highly integrated with Android devices but also offers cross-platform support. It's a go-to choice for users who are already embedded in the Google ecosystem.
5. Dreame (PublishDrive exclusive)
Dreame is a reading app and community for serialized stories, focusing on genres like romance, mystery, and fantasy. It is particularly popular with independent writers who publish their stories chapter-by-chapter, often engaging directly with their reader community.
Read more on why sell to the Dreame reading app.
6. Findaway Voices
Findaway Voices is an audiobook distribution platform that provides a robust solution for publishers and authors looking to distribute their audiobooks to various platforms, including libraries. 
Findaway's extensive distribution network and flexible pricing options make it a valuable asset for those looking to broaden their audiobook reach.
7. Bibliotheca
Bibliotheca is a digital content platform popularly used by public libraries and educational institutions. It provides a range of eBooks and audiobooks, allowing libraries to offer digital lending services to their patrons. Bibliotheca's cloud library app offers a user-friendly interface, making it easier for readers to borrow digital content.
8. Hoopla
Hoopla is another digital media platform that partners with public libraries to offer library cardholders free eBooks, audiobooks, movies, and more. With its unique model of providing instant access to its entire catalog, Hoopla eliminates wait times, which is a common issue with many digital library services.
9. OverDrive & OverDrive Audio
OverDrive is one of the leading digital distribution platforms used by libraries and schools to lend eBooks and audiobooks. 
OverDrive Audio refers to the platform's extensive audiobook collection. It offers a wide selection of titles and is compatible with multiple devices, from smartphones to desktops, providing a seamless experience for users.
10. Scribd
Scribd offers a subscription service that gives readers access to a vast library of ebooks, audiobooks, magazines, and documents. With a monthly fee, users can enjoy unlimited reading from a comprehensive catalog that spans multiple genres and formats.
💡Read more on how to publish on Scribd.
This is a distributor list for stores with a strong presence in Canada. If you want to publish internationally, you can pick other stores from our distribution network. We'll email you the list.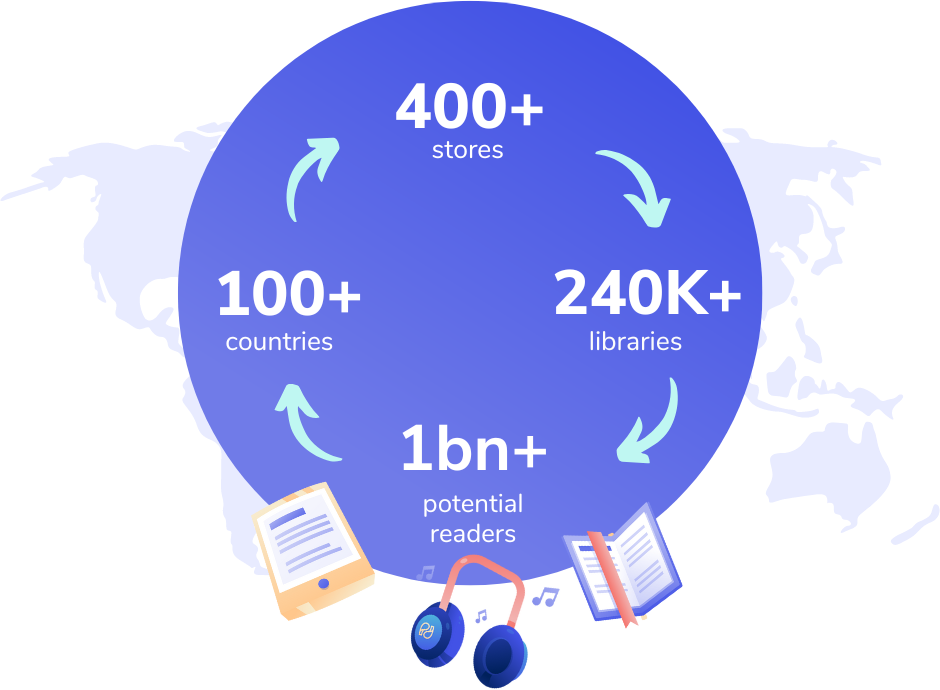 Wholesale Distribution Channels
Digital platforms have streamlined the publishing process, offering quick distribution and real-time analytics. 
They provide direct access to global markets, reducing the need for intermediaries. With built-in marketing tools and diverse pricing options, they give authors and publishers more control over sales and promotions. 
While platforms offer efficiency and agility, traditional wholesale distribution still holds value, especially for publishers with extensive print catalogs. 
Wholesalers can provide bulk sales and placement in physical bookstores, schools, and libraries, supplementing digital efforts and reaching different audiences. 
Here are some Canadian wholesale companies.
1. Indie Publishing Group
Indie Publishing Group is a self-publishing entity in Canada that offers personalized publishing solutions. Armed with years of experience in the publishing sector, they simplify self-publishing with the goal of helping authors turn their publishing dreams into reality.
2. Tellwell 
Tellwell offers an industry-leading distribution deal, ensuring authors receive 100% of their royalties. The company guides authors through the publishing process. Transparency is key; authors maintain complete control over every aspect of the book, including cover design, editing, and pricing, while retaining 100% of their publishing rights.
3. FriesenPress
FriesenPress stands unique as a publishing services provider that is entirely owned by its employees. The company's objective is to treat every book as its own creation while equipping authors to disseminate their finest narratives globally.
Gain Traction by Publishing Wide
Utilizing wide distribution offered by platforms such as PublishDrive represents a pivotal strategy for expanding the reach and maximizing revenue in the Canadian book market. 
Self-publishing companies in Canada are increasingly recognizing the benefits of leveraging multiple distribution channels, from Amazon Kindle Direct Publishing Canada to local platforms. 
By embracing platform-wide distribution, authors and publishers not only bolster their domestic presence but also create opportunities for global expansion.
Canadian self-publishing companies can diversify their income streams and capture a wider audience by not limiting themselves to a single platform (like Amazon KDP Canada). 
This comprehensive approach to distribution is quickly becoming the gold standard for the Canadian self-publishing landscape.