Publishing-Industry
Why Publishing Houses Need to Understand Publishing Trends to Choose the Right Books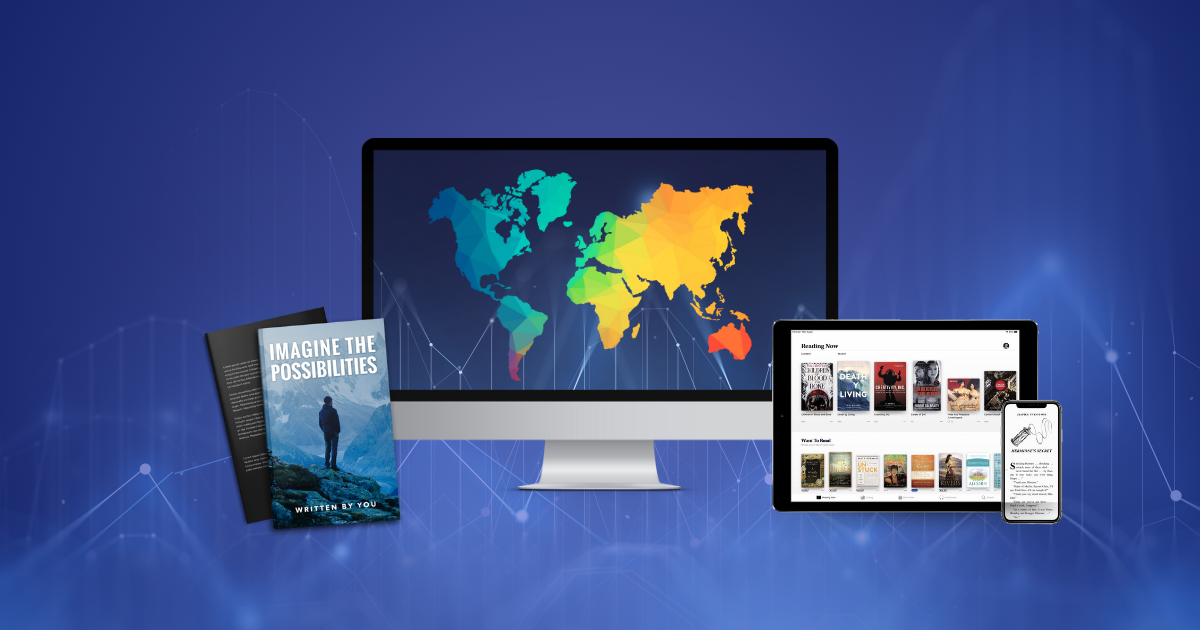 In the book publishing industry, staying in touch with publishing industry trends is crucial for both authors and publishers. 
Understanding the latest shifts—from the most popular book formats to emerging genres—can significantly inform your marketing strategy and ensure you invest in the right projects. 
As we dive past the trends for 2023, you should understand what readers want.
This article will explore these trends, arming authors and publishers with the insights needed to make informed decisions and succeed in the competitive landscape of the publishing industry.
Why Publishers Need to Understand Book Trends
Publishing houses need to understand trends, statistics, and the market climate for several important reasons when selecting the right books for publication:
1. Audience relevance
Publishing houses must identify books that are relevant to the current interests and needs of their target audience. By analyzing trends and market data, they can ensure that the books they publish align with the preferences and demands of their readers.
2. Profitability
Publishing is a business, and profitability is a crucial consideration. Understanding market statistics helps publishers assess the potential sales and revenue a book can generate. They can make informed decisions on investments, marketing budgets, and pricing strategies.
3. Risk mitigation
Publishing a book is a substantial investment of time and resources. By examining market trends and data, publishers can reduce the risks associated with publishing a book that may not resonate with readers or fail to recover its production costs.
4. Competition analysis
Publishers need to be aware of what other books and authors are currently popular in their niche. This information helps them identify gaps in the market and make strategic decisions on how their books can stand out in a crowded field.
5. Marketing strategy
An effective marketing strategy relies on understanding the market climate. Publishers can use data to create targeted marketing campaigns, identify the most effective promotional channels, and tailor messaging to match market trends.
6. Author selection
Publishers must choose authors and books that have the potential to succeed in the current market. Understanding trends and statistics can guide them in identifying promising authors and manuscripts.
7. Content curation
A well-curated catalog of books is a critical asset for a publishing house. To curate effectively, publishers must understand what types of books resonate with their audience and fit their brand.
8. Reader satisfaction
Publishing houses aim to satisfy their readers. By selecting books aligned with market trends and statistics, they are more likely to offer content that their audience finds engaging, valuable, and enjoyable.
9. Adaptation to market changes
Publishing is subject to constant change due to technological advancements, shifts in consumer behavior, and evolving market dynamics. Staying informed about trends and statistics allows publishers to adapt and innovate to remain competitive.
Book Trends in 2023: General Overview
Based on a WordsRated report called Global Book Sales Statistics, the worldwide revenue from book sales was calculated to be just above $78 billion in 2023, marking a 2.53% increase from 2022. This uptick is particularly promising, given that sales experienced a more than 10% decline in 2022 compared to 2021.
Book Sales Trends in 2023: Formats & Preferred Distribution
Book publishers and independent authors should note the publishing industry's trends and look deeper into the markets of the top five countries that dominate global sales: the US, China, Germany, Japan, the UK, and India.
1. Book sales trends: print books
Print books remain the heavy hitters in the global book market, generating over $64.35 billion in 2023. Yet, they are on a gradual decline. 
2022 was especially grim for print books, marking the worst performance in a decade. The average decline was 1.67% in global revenue over the last six years. 
Though projections suggest a modest annual growth of 1.08% for print books by 2027, this will still fall short of the $71.50 billion revenue recorded in 2017.
2. Book sales trends: ebooks
Ebooks are in ascendance, growing globally at an average annual rate of 3.52% since 2017. In 2023 alone, ebooks are projected to rake in over $13.72 billion, and this number is expected to grow to $15.29 billion by 2027, making up 17.27% of global book sales. 
3. Book sales trends: audiobooks
Audiobooks also claim a growing slice of the pie, accounting for 5.73% of all book sales in 2021. This share is projected to grow to over 6.9% by 2027, becoming the fastest-growing sector of the publishing industry. 
4. Book sales trends: platforms
Selling platforms are also undergoing shifts. Local bookshops contribute to just over half of all global book sales. Online channels—boosted by the COVID-19 pandemic—account for a quarter of all sales worldwide. 
Regarding geographic distribution, the United States, China, and Germany are the big players, controlling significant portions of the global market. The top five biggest book markets controlled 66.71% of all global book sales as of 2023, and this dominance is expected to grow to over 68% by 2027.
Book Sales Trends in 2023: Market Specifics by Regions 
To better understand the book industry outlook, let us look deeper at the publishing trends in 2023 on both sides of the Atlantic. 
1. The US Market
The US publishing sector rakes in approximately $28 billion annually. 
Despite the steady revenue over the past four years, the industry has undergone significant transformations.
In 2019, while 65% of individuals opted for print books, a quarter of adults embraced ebooks. By 2022, audiobooks captured the interest of 20% of the American population. 
Data reveals a consistent surge in audiobook sales from 2012, with revenue climbing by 14.3% year-on-year, cementing its position as one of the fastest-growing sectors in the book industry. 
Still, ebook sales surpass audiobook sales, grossing over $956 million—largely credited to Amazon's Kindle.
This upward trend in ebooks and audiobooks presents a goldmine for independent authors. 
Technological advancements are simplifying the process of producing and releasing digital books. Amazon's ACX, for instance, assists authors by preparing their audio files for listing on platforms like Amazon, Audible, and Apple iBooks. 
Beyond Amazon, a significant portion of the population is accessing digital content through public libraries. 
Three years prior, library digital content downloads skyrocketed, marking a 20% growth with a record 326 million downloads. 2022 witnessed an even steeper ascent in library ebook checkouts. 
2. The European Market
From the available data, Enrico Turrin, the Federation of European Publishers (FEP) deputy director, stated that in 2021, total sales revenue in Europe grew by 6.5%, reaching €23.6 billion from €22.2 billion in 2020. 
As per FEP records, 2022 witnessed a sale of two billion units, projected to increase to 2.5 billion units within the same year (as the data is still collected).
Despite the growth in sales, supply chain issues post-pandemic have led to a reduction in new book releases. This number stood at roughly 500 million annually for the past two years. To provide context, 610 million new books were released in 2017, 595 million in 2022, and 575 million in 2021.
In 2022, print sales dominated, making up 84.8% of total sales, followed by digital books at 12.6% and audiobooks at a mere 2.5%. Print sales experienced a minor decline in 2022 compared to 2021, especially in countries like France, Germany, and the Nordics. 
However, compared to the 2019 numbers, the statistics were more uplifting, with countries like Italy, France, and Spain reporting significant growth.
A noticeable trend in the Nordic nations (Denmark, Norway, Sweden, and Finland) is the growing preference for digital platforms. Among the favorites are digital subscription services like Storytel and BookBeat, which primarily offer audiobooks. 
Turrin indicated that while online sales, which skyrocketed during the pandemic, are now decelerating, in-person sales have seen a revival. 
2022 recorded a dip in bookstore sales across most of Europe when benchmarked against 2019, with Germany, Italy, and the UK seeing declines of 7.4%, 7.7%, and 6.5%, respectively.
As for 2023, Turrin notes the situation is "varied" across Europe, with sales trends escalating in major markets like France, Germany, and Spain but diminishing in Italy and the Nordics. Yet, compared to pre-pandemic years, the sales landscape remains substantially strong.
Book Sales Trends in 2023: Book Genres
Book genre trends in 2023 are insightful for both traditional publishing houses and self-published authors. 
Non-fiction continues to outpace fiction books, outselling it by a nearly 3-to-2 margin. 
Among non-fiction categories, religious and inspirational books are the top sellers, followed closely by educational and scientific subjects, making up 50% of all published works. 
In fiction, romance remains an unassailable leader, generating sales that more than double those of the next leading genre, crime/mystery. Notably, women are key drivers of fiction sales, accounting for nearly 80% of purchases in markets like the US, UK, and Canada.
The call for diversity and representation is louder than ever, with publishers actively seeking works from marginalized voices and racially diverse perspectives, especially in children's books. 
As 2023 draws close, it appears to be a lackluster year for sales in all children's book categories. Notably, middle-grade paperbacks have contributed substantially to this downturn.
Political, journalistic, and current affairs titles are in constant demand, reflecting our rapidly changing world. 
From books about key political figures to topics like abortion and stories from Ukraine, publishers are keen on content that captures the zeitgeist. 
The comic book and graphic novel sector has also seen a boost, particularly in the anime genre. 
A New Age in Publishing: AI-Generated Content
Technology-wise, artificial intelligence is increasingly penetrating the industry, mostly in book marketing and sales strategies, but it's also stirring debates about its role in content creation.
With the growing focus on new AI technologies, it's understandable that 69% of publishers view AI as the most impactful technology for their business in the coming two to three years. 
According to the World Association of News Publishers, other technological advancements on publishers' radar include 5G, attracting the interest of 28%, and the Metaverse, which has garnered the attention of 16%.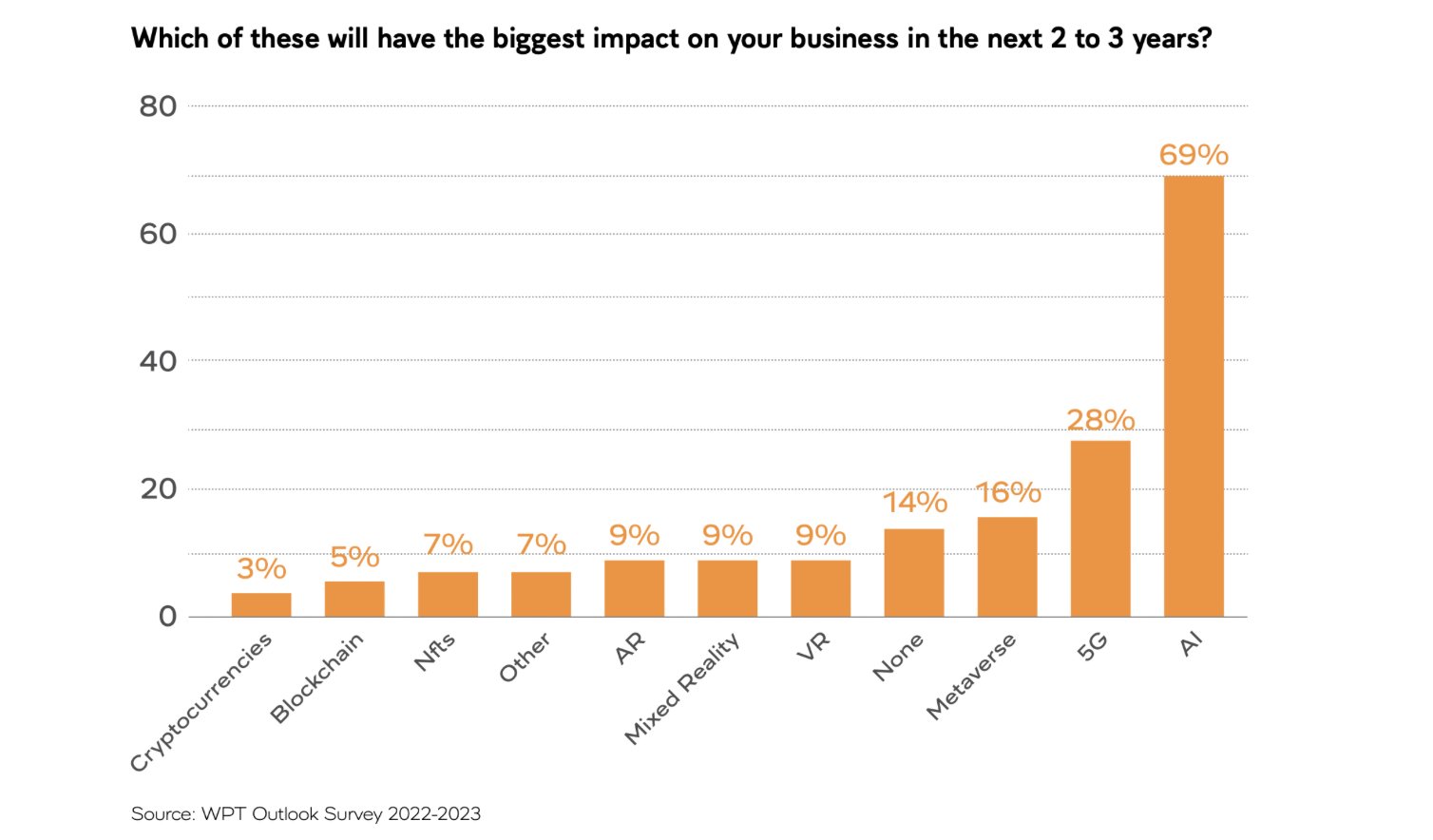 Publishers are now on the cusp of employing artificial intelligence to pen books.
Online publishers have already adopted AI for article writing.
Beyond writing, publishers are leveraging AI in various ways.
It's used for content categorization, acquisitions, plagiarism detection, and marketing books.
With the advent of digital marketing, the horizons in the publishing arena are expanding.
Preview chapters are showcased on real-time social media streams, virtual literary sessions attract over 500k attendees, and publishers gather unprecedented data on reader behaviors.

Book Promotion Trends
Social media channels, like TikTok, have their own communities dedicated to book lovers. BookTok has become a vital channel for authors to promote their newly released books. 
The platform has proven invaluable for publishers and authors in gauging consumer interest and behavior. Publishers rely on advanced analytics to track consumer data. This includes reading preferences and buying habits to tailor their marketing strategies and editorial choices better.
"There is one thing that everyone agrees on—BookTok has made reading fashionable, and young people are flocking to bookstores in a way that they haven't since Harry Potter entered the global consciousness. […] whatever criticisms may be aimed at BookTok, the beauty of it is that it is created by and for people who love books." Gemma Davis, How trends as made at Frankfurt
Digital promotions are booming, with platforms like Instagram and YouTube hosting communities like Bookstagrammers and Booktubers who actively discuss and promote books. The term "Bookstagrammer" has garnered over 15 million hashtag posts on Instagram.
Events continue to be a focal point for many. A third of World Association of News Publishers survey respondents from emerging and established markets emphasized their importance for future activities.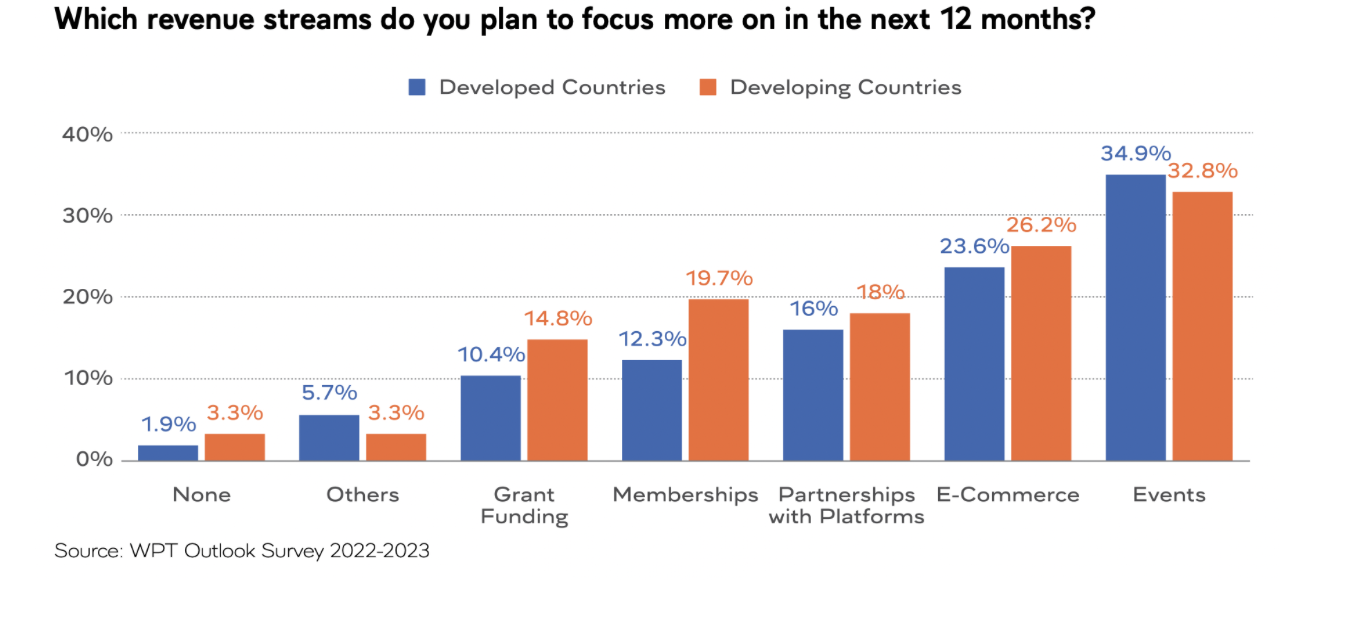 The focus on events also provides a valuable opportunity for building communities and fostering audience engagement and loyalty.
Publishing Trends Beyond Books
In 2023, the book industry shows several pivotal trends:
1. Small bookstores struggle
The future for small bookstores seems bleak. The pandemic posed challenges, causing several to shut down in 2020. Physical store limitations led to increased online sales, and platforms emerged to support these businesses, allowing them to earn from affiliate sales while handling logistics.
2. Libraries vs. publishers, a digital dispute
Digital media demand has grown, leading to disputes between libraries and publishers. 
Libraries stand for information accessibility, while publishers fear revenue loss from library checkouts. 
In past years, book publishers imposed restrictions on the way libraries provided ebooks to their users.
Consequently, The Public Lending Right (PLR) Scheme has been updated to grant authors a potential income of up to £6,600 annually from borrowing their books at public libraries across the UK, distributing over £6 million yearly. 
The author payment per loan is derived by dividing the entire available fund by the projected yearly total of loans in public libraries.
Currently, the PLR Scheme determines the loan count using a sample, relying on data from 30 council libraries to aid in calculating payments. With the upcoming changes, the British Library plans to gather exhaustive loan data from all UK library authorities to guarantee authors receive their due compensation.
Essentially, the more frequently an author's books are borrowed from public libraries, the greater the income they'll earn via the Scheme.
3. Self-publishing surge
New and seasoned authors are now looking at self-publishing over traditional publishing. 
Book aggregators, like PublishDrive, bridge the gap between authors or publishers and online retailers, ensuring that your ebooks are distributed to a wide range of ebook retailers. PublishDrive simplifies the publishing process by handling tasks such as ebook formatting, cover design, and marketing, making it easier for authors to focus on their craft.
An effective book aggregator streamlines the distribution process, ensuring that an author's work reaches the appropriate platforms. 
Turn Data into Revenue
Authors and publishers must stay ahead of the curve as the book publishing industry evolves. 
By closely monitoring the trends for 2023 and adapting their marketing strategy accordingly, publishers can capitalize on shifts in popular book formats and reader preferences. 
Leveraging the available data can enhance publishers' position in the competitive landscape and convert insights into significant power and revenue. It's an exciting era for the world of literature, and those equipped with the right knowledge and adaptability are poised to thrive.