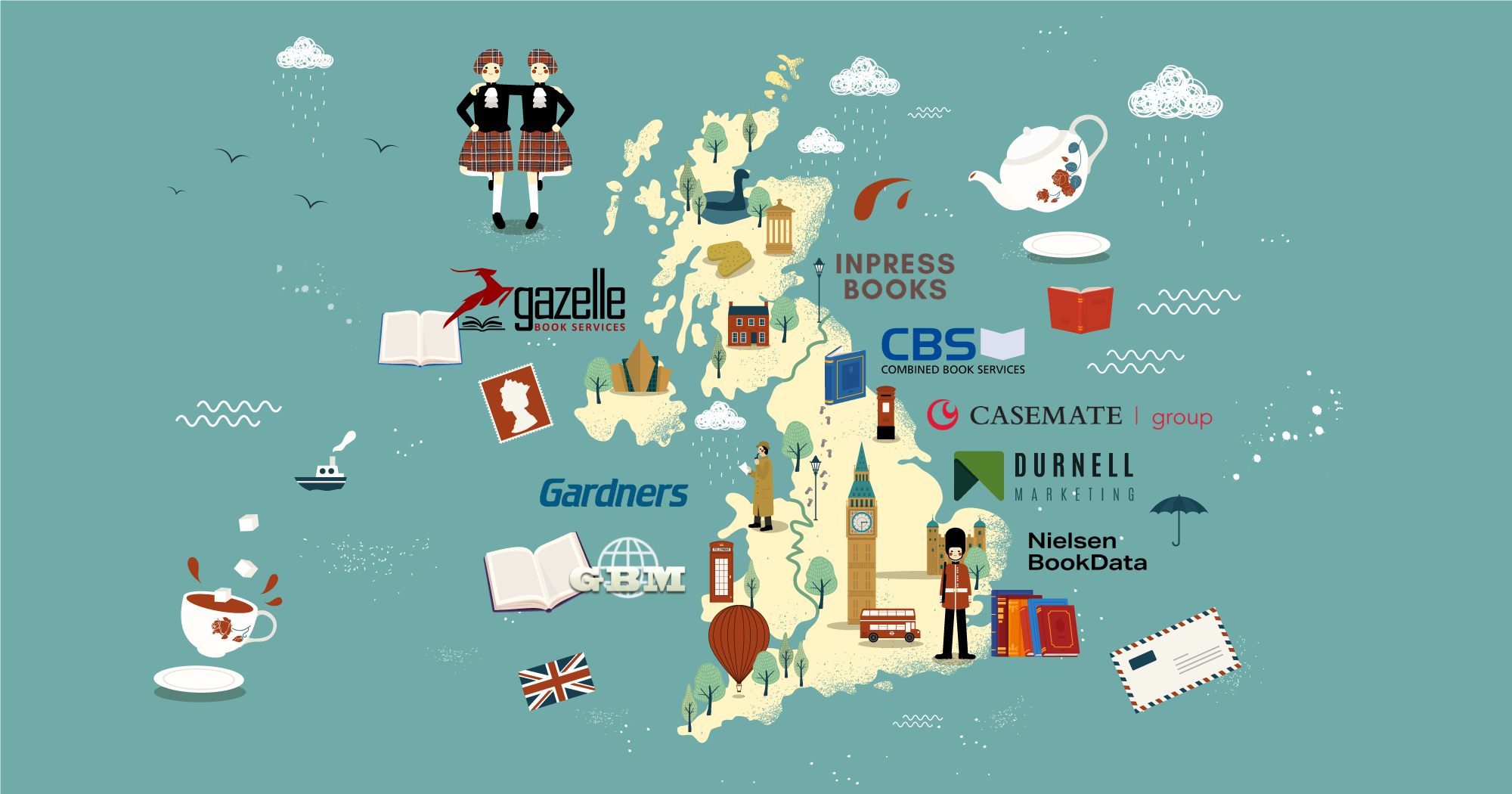 In book publishing, distributors ensure that books reach their intended readers. 
While traditional methods still work, self-publishing platforms increasingly demonstrate greater agility in adapting to market changes. 
A distributor can influence book sales for publishing companies in the UK and beyond. This is especially true for small book distributors and alternative book publishers, who may find that platforms offer the flexibility and responsiveness they need to thrive in a dynamic market.
Let's see a few options for UK publishing companies and authors seeking to make a business out of their writing.
Why Look at Book Wholesalers In The UK? 
Working with a book distributor offers many advantages for publishers and authors, particularly when it comes to expanding their reach and improving operational efficiency. 
1. With the traditional route
For book publishers in England, especially smaller ones, navigating the complexities of distribution can be daunting. That's where book distributors for small publishers and those that are more popular come into play, offering specialized services that can significantly amplify a book's presence in the market.
These distributors have established relationships with retailers, libraries, and educational institutions. 
Their logistics and supply chain management expertise ensures that books are delivered to the right place at the right time, minimizing the risks of overstock or stockouts. 
By utilizing book wholesale UK networks, distributors can get your titles in stores and online platforms that otherwise might be inaccessible.
Fulfillment companies in the UK add another layer of efficiency, handling the storage, packing, and shipping of books. This allows publishers and authors to focus on what they do best—creating content. These companies often offer real-time tracking and analytics, providing valuable data that can be used for targeted marketing and sales strategies.
2. With self-publishing
Self-publishing platforms are where the distribution of books from publishers and authors intersects. With the wide reach offered by their partners, self-publishing platforms can be beneficial for both parties.
Distribution platforms can have multiple benefits for experienced authors and publishers. To name a few:
Wide reach

: These platforms provide a global reach, giving authors and publishers access to a massive audience.

Ease of access

: User-friendly interfaces make it simple for authors to upload their books and for readers to purchase and download them.

Flexibility

: The platforms offer various pricing options, promotional tools, and different types of content like audiobooks, ebooks, and even print-on-demand.

Real-time data

: They offer real-time tracking of sales, reviews, and rankings, allowing for immediate adjustment of marketing strategies.

Royalty options

: Higher royalties compared to traditional methods and the freedom to set one's own price points.
Advantages over traditional distributors and fulfillment companies
Lower costs

: Traditional distribution channels often require a hefty investment and storage fees for physical copies. Digital platforms bypass these, making it cost-effective.

Speed to market

: Once a book is ready, it can be uploaded and made available to the public in hours or days, as opposed to the weeks or months that traditional distribution might require.

Direct customer engagemen

t: These platforms often offer ways to interact with readers directly, providing valuable feedback and insights.

Ownership control

: Authors maintain control over their intellectual property, including the freedom to update content.
Reach New Readers With PublishDrive
PublishDrive is among the top book aggregators you could choose for your book distribution, whether you're an author or a publisher looking for international audiences. It simplifies publishing, distribution, and marketing intricacies, offering a one-stop resource hub.
PublishDrive works based on a flat fee subscription model, allowing authors and publishers full control over their revenue. 
With a wide array of stores, collaborations, tools, and features, you access an all-encompassing book network designed to grow your business and open new markets, reaching hard-to-get audiences.
Why PublishDrive?
Besides the seamless process of publishing PublishDrive offers, you'll benefit from:
Multi-format distribution

Book distribution to 20+ channels, 400+ stores, and thousands of digital libraries worldwide

Built-in marketing and promotional tools

to help with your books' visibility

In-store featuring: with PublishDrive's featuring option, you can submit your books for a chance to be featured in Written Word Media's websites, in Kobo's app store, and other top retailers, like Apple Books and more

Services like

royalty splitting

POD cover template

generator
We offer print-on-demand distribution through Ingram, which sells books in over 40,000 online stores, including Amazon, Barnes & Noble, Baker & Taylor, Walmart, Costco, and other independent bookstores, chain stores, libraries, and universities.
Book publishers in England and authors seeking to become authorpreneurs can tap into various distribution channels focusing on the UK markets & beyond. 
💡Until July 2023, the United Kingdom had a 65% revenue growth with PublishDrive compared to last year's same period.
Here are the distribution channels to UK markets PublishDrive works with.
20 Book Distributors For Successful Publishing Partnerships
The platforms below are book distributors with a strong focus on the UK book market. You can also reach them simultaneously directly through PublishDrive. 
Through PublishDrive
The giant of the book-selling world, Amazon offers both ebooks and audiobooks through its Kindle and Audible platforms. 
A leading digital bookstore available on all Apple devices, Apple Books offers a sleek, user-friendly reading experience. 
It caters to a dedicated customer base who prefer the iOS ecosystem, presenting a unique market for authors and publishers.
As a part of the Android ecosystem, Google Play Books offers a vast international reach. It's a flexible platform that allows for both e-book and audiobook distribution, catering to Android users worldwide.
Known for its high-quality e-readers, Kobo has a global presence with a focus on Canada and several other international markets. 
It offers various genres and provides self-publishing opportunities through Kobo Writing Life.
Operating on a subscription model, Scribd offers unlimited access to its library of e-books, audiobooks, and even academic papers. It's a great platform for authors looking to tap into a customer base willing to explore different genres and titles.
Bookmate offers e-books and audiobooks on a subscription model. It's a niche platform that provides an opportunity for authors to reach specific regional audiences. Bookmate is actively developing in areas like Europe, Latin America, South East Asia, and Africa.
7. Dreame (PublishDrive exclusive)
This platform specializes in serialized stories, primarily in the romance and fantasy genres. Dreame is geared towards indie authors looking to gain a foothold and build an audience in these genres.
Operating on a subscription model, 24symbols offers a diverse range of books and allows authors to reach audiences in multiple languages.
This is an educational platform that operates like the "Spotify for textbooks." It's an excellent avenue for academic authors to make their works more accessible to students and educators.
A major distributor in both the library and retail markets, Baker & Taylor provides extensive reach and multiple formats, including print, e-book, and audiobook.
Specializing in the library market, OverDrive offers a wide range of digital media, including e-books and audiobooks. It's an excellent platform for authors looking to get their works into educational and public library systems.
Bibliotheca focuses on supplying e-books and audiobooks to libraries. Their cloud library service is used by thousands of libraries worldwide.
Primarily a book wholesaler from the UK, Gardners provides books to retailers and libraries across the globe. They have an extensive range of titles and formats, including ebooks and audiobooks.
As an extension of Google Play Books, this platform specializes in audiobooks. It taps into the Android user base and offers a range of titles across multiple genres.
This platform is Apple's dedicated service for audiobooks, providing a similar user experience to Apple Books but focusing solely on audio content.
Owned by Amazon, Audible is a powerhouse in the audiobook market. With its subscription-based model, it has a wide variety of titles and offers opportunities for authors to reach a massive audience.
An extension of Kobo's ebook platform, Kobo Audio caters to the growing demand for audiobooks, offering various genres and titles to its international customer base.
OverDrive's dedicated audiobook service, catering to libraries and educational institutions, offers authors an avenue to reach educational and public library systems specifically with their audio content.
An extension of Bookmate's e-book service, Bookmate Audio offers a variety of audiobooks in multiple languages, targeting its strong international user base.
Unlike other platforms that are directly consumer-facing, Findaway operates as a distribution service for audiobooks, partnering with a wide range of retailers and library services to maximize an audiobook's potential reach.
This is a UK distributor list, but if you want to publish internationally, you can pick other stores from our distribution network. 
See the complete store list and the royalty percentages you can get from each store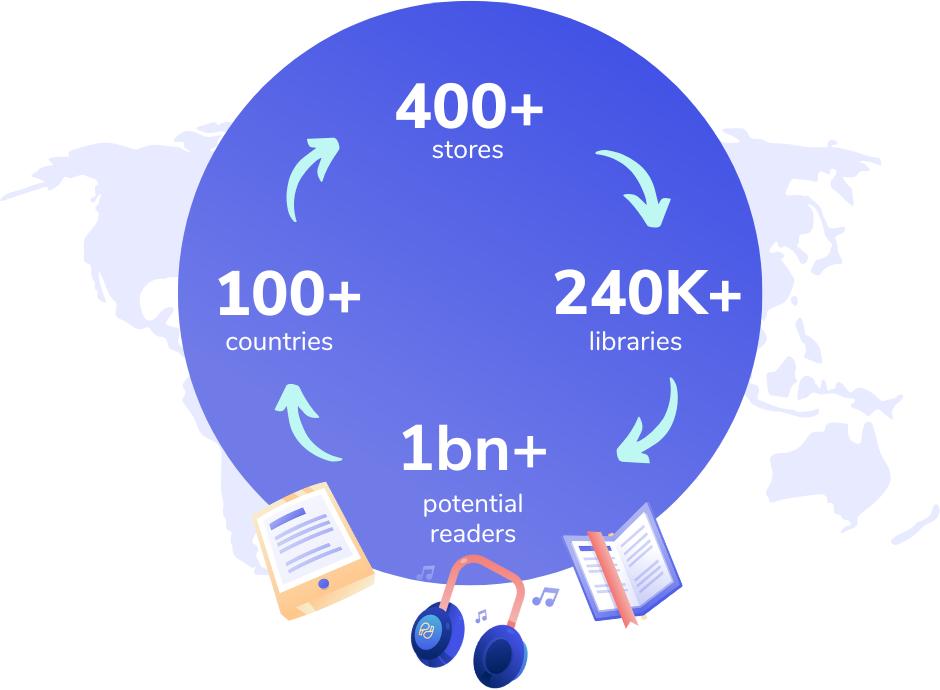 Wholesale Books in the UK
If you feel like traditional wholesale distribution suits you, here are six wholesale and fulfillment companies to discover.  
Nielsen BookData, originally established in 1858 by Joseph Whitaker, has long been a cornerstone in the book industry. The organization facilitates book discovery, purchase, distribution, and sales measurement. 
Durnell Marketing specializes in distributing scholarly, academic, and professional titles. Their expertise in domestic and international sectors places them on any reputable UK distributors list, and they are an important point of contact for those interested in wholesale books in the UK.
Listed among fulfillment companies in the UK, they offer a comprehensive range of services, including inventory management, order processing, and timely delivery. Their tailored services have solidified their reputation as a go-to resource for publishers aiming for impactful and broad distribution of their titles.
Gazelle Book Services functions as a book distribution enterprise, allowing publishers to expand their market reach within the UK and Europe. Publishers from various parts of the world attest to the effectiveness of Gazelle's strategy of promoting their titles through a unique distribution framework. 
Combined Book Services provides comprehensive distribution services: order processing, invoicing, picking and packing, credit management, cash collection, bulk storage, and inventory management. 
For publishers who prefer to manage their own sales ledgers and handle order processing and cash collection in-house, they offer a customized 'pick & pack' solution. 
The Casemate Group caters to a broad spectrum of markets, including specialist and general trade, academic, library, business-to-business, and direct-to-consumer through their own mail-order capabilities.
In addition to basic warehousing and fulfillment services, the group offers simultaneous book publication across the Atlantic, in-warehouse print-on-demand (POD), and highly adaptable automated stock replenishment in both locations. 
Time to Grow
While there's no denying the importance of book distributors for small publishers (in particular), the landscape of book distribution is evolving. 
Traditional publishing companies in the UK have long relied on book distributors for order fulfillment, warehousing, and reaching retail shelves. 
However, the modern digital age presents a compelling alternative: aggregator platforms. These platforms serve as a one-stop shop, offering many services under one umbrella, from distribution to marketing and analytics.
Aggregators bring the advantage of expansive reach, not just within the UK but globally, something even the best fulfillment companies in the UK might struggle with. They're especially beneficial for small publishers who may find negotiating and managing multiple distributor relationships challenging.
Aggregators offer a streamlined process, saving authors and publishers valuable time and resources that could be better spent on content creation and other core business functions.