Book Marketing
How to Harness Digital Marketing in the Publishing Industry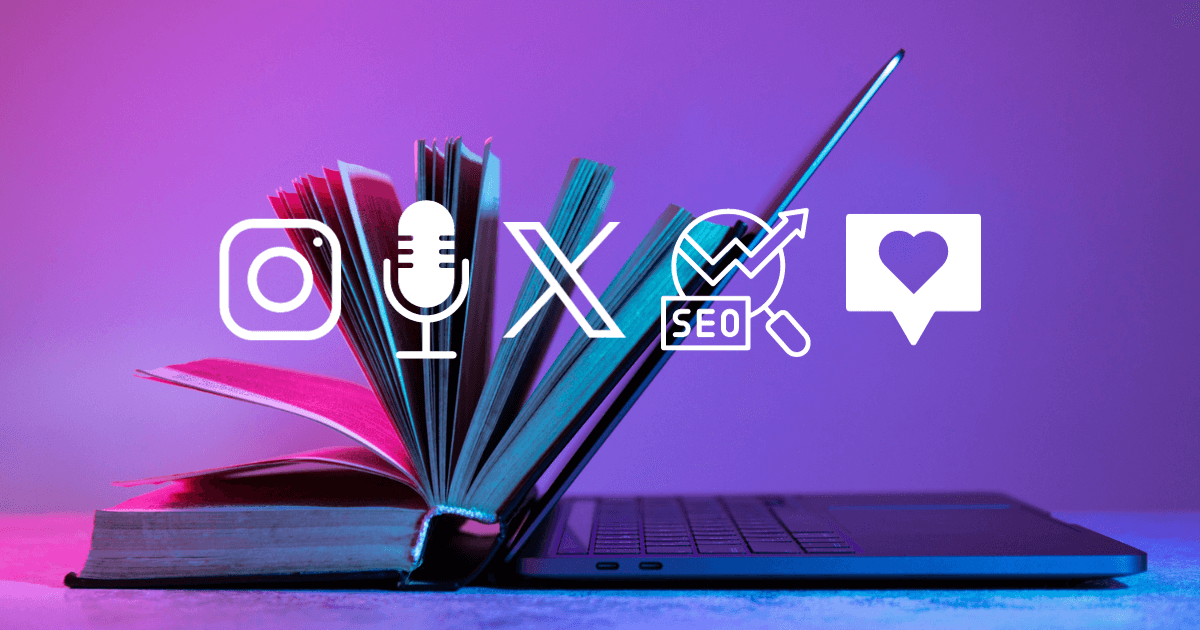 Want to self-publish a book successfully? By successfully, I mean building a following of readers, collecting positive book reviews, running a self-publishing business as an authorpreneur, and generating book sales that never stop. To achieve this, you must promote online. Below is your rundown on how to harness digital marketing in the publishing industry.
Why Digital Marketing in the Publishing Industry Is a Must Today
Back in the day, there was traditional publishing where writers would pitch their books to large publishing houses, crossing their fingers to get noticed. The waiting period could take years and years. And unfortunately, many writers would never hear a response. Then came the era of self-publishing, where we said no more gatekeepers!
Now, anyone can manage the book publishing and marketing process whenever and however they want. Not only that, but anyone can become a publishing house themselves and help the author community get their books out to the world.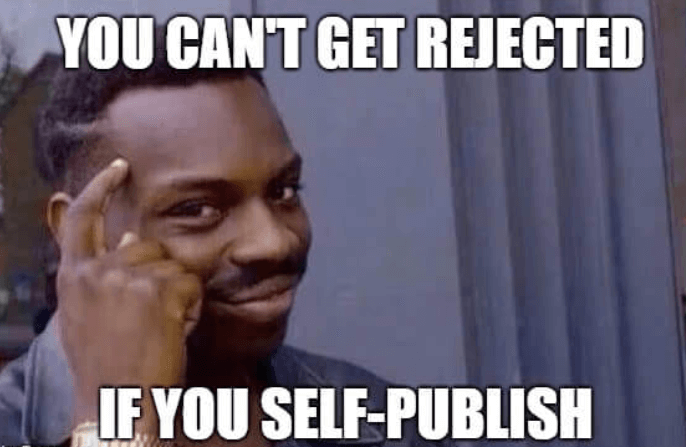 Although self-publishing was first launched in 1979 as desktop publishing (DTP), it wasn't until the early 2000s that the world started to experience the impact of self-publishing – thanks to the Amazon Kindle. The Kindle e-reader was first released in 2007. Three years later, it achieved more book sales than traditional hardcover books. Self-publishers have been pioneering this wave with their ever-growing catalog of digital books.
Then, during the heart of the pandemic in 2020, digital books spiked in prominence as reading habits drastically shifted to online, such as online stores like Amazon, subscription reading apps like Dreame, and digital libraries like Bibliotheca. Although physical books have eventually made their comeback, our current landscape is still overwhelmingly digital.
Today, Amazon captures more than half of the global book market. Other major bookstores include Apple, Google, and Barnes & Noble – all available online. In short, book people are shopping online. Not only are they shopping but hanging out online in spaces like Facebook and TikTok. To reach them, you'll need to go online. Plus, why would you limit yourself locally when you've got the World Wide Web at the tip of your fingers?
You can maximize your selling potential by maximizing your reach. This means going online where you can reach readers who: 1) are spending their time online, 2) are browsing for books online, and 3) are located around the globe.
⭐ PublishDrive is an online self-publishing platform that helps tens of thousands of publishers distribute all over the world. Along with publishing support, the platform provides simple book publishing marketing tools that you can harness in no time.
How Digital Marketing Works in Publishing (Most Popular Platforms to Know)
So, how do publishers market books online? What does it actually look like? Like in most industries, you'll see a variety of digital tactics being used in the publishing segment. You want to implement what best fits your unique circumstances involving your target audience, personal/business goals, and budget. I talk more about this later.
There are general practices and trends to know when it comes to digital marketing in the publishing industry. Going over them will help you get a better understanding of what digital marketing in publishing looks like right now –
TikTok's BookTok
Yes, TikTok is a video-sharing app known for reaching younger audiences. So, if you're writing for YA, this is a platform to consider. If your audience spans other age ranges, no worries. Under TikTok's BookTok community, all ages are engaged. BookTok is a rapidly growing community of book lovers within TikTok. Indie authors like Jayne Rylon and Lila Dubois gained 10,000 followers in just a matter of months – they're now promoting on TikTok full time. Learn more about how to TikTok BookTok.

To see how authors are promoting on TikTok, check out big accounts like Ayana Gray. Ayana documents her author journey by sharing vlog-style updates and reaction videos. She offers a genuine glimpse into her life with every book launch and promotion.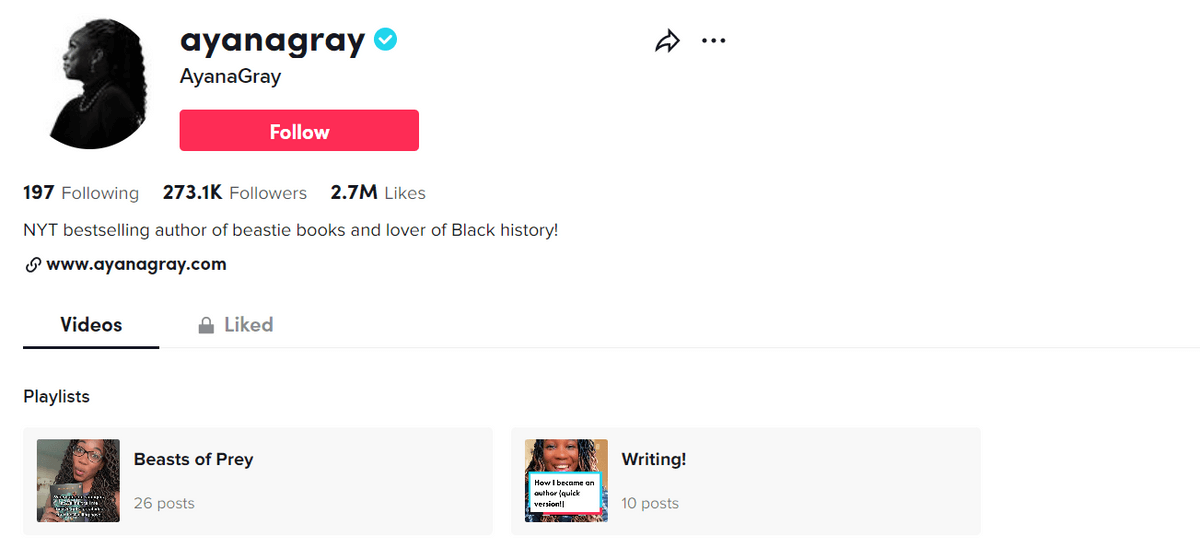 Instagram's Bookstagram
Instagram is more of a photo-sharing app, although short-form videos have been picking up steam. Its Bookstagram hashtag is its own space for book-related content, where users can engage with their favorite authors as well as discover new books.
If you have a specific author brand with a specific aesthetic, I suggest starting an Instagram account to showcase this and attract those who resonate with your style. See a handful of examples in this Bookstagram for authors guide.
Facebook Author Page
TikTok and Instagram have been booming in popularity, but Facebook is still the #1 social media platform in the world. Although organic discovery is not as potent as on TikTok and Instagram, Facebook is considered a "timeless" space for establishing your online presence as an author. Even if they're not as active, most authors have an author page set up for people to come across.
As the largest social platform, Facebook is a fantastic space for running paid advertisements. This is where you can significantly boost your reach. Try paid promotions on Facebook when it's time to launch your book, announce a special sales event, or whatever else (you can spend as little as $5 to test things out.) See how to create a Facebook author page and how to use Facebook ads for authors.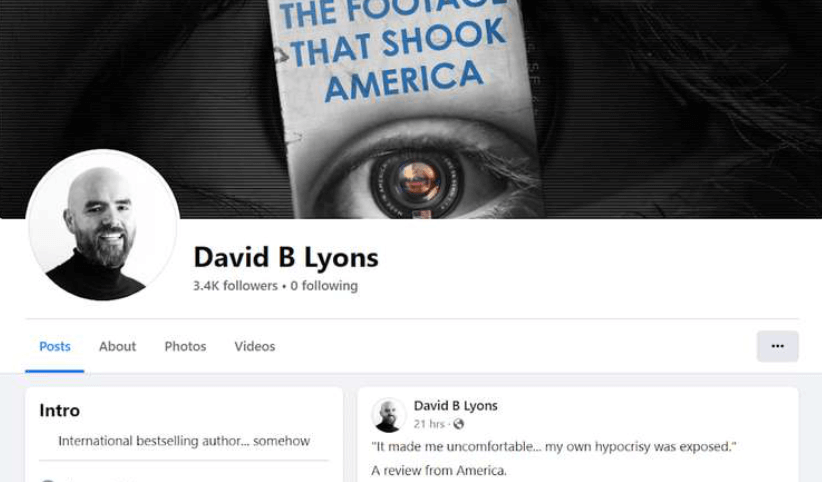 Goodreads Author Page
Goodreads is an online platform specifically built for book lovers. Readers can engage with their friends and exchange book suggestions, write book reviews, connect with authors, and find new releases. With over 90 million users, I definitely suggest creating an author page on Goodreads.
There are a ton of organic ways to promote your book on Goodreads, such as regularly engaging with readers and other authors. For advertising publishers, paid activities are available as well, including running ads, hosting Goodreads book giveaways, and more.
Here are the other platforms to consider:
Twitter/X:

If you're up for engaging with the book community on a daily, Twitter is a fantastic platform for you. It's a social networking site where users broadcast short posts known as tweets. Many authors tweet a handful of times per day.

Pinterest:

If you've got a knack for creating or curating aesthetically pleasing visuals related to your book, Pinterest is the site for that.

Podcast/YouTube:

Podcasts have been growing in popularity across industries, allowing businesses to share ideas, conduct interviews, and more. YouTube is the go-to for uploading podcast content.

Author pages:

Along with setting up your author pages on Facebook and Goodreads, don't forget about Amazon, Google, and other stores that provide author pages (if you decide to distribute to them.)

BookBub/paid ads:

If you've got the budget for it, I recommend checking out advertisement platforms for books. BookBub advertising is a popular choice for authors who want to advertise to millions of readers. There are other channels like those provided by Written Word Media.

Author website:

Social media sites may break down or eventually fade out. Having your own author site is a soundproof way to maintain an online hub or home base for your readers. A professionally designed website can boost your author branding. You can also set up free sites on platforms like Wix or WordPress.

Email marketing:

Building your own email list is another solid way to maintain a lasting communication channel with your readers. Read email marketing for authors.
There's a lot here. And, you don't need to get on every single platform mentioned. If you're just starting out as a newbie author, do take the time to sit down and think about your online strategy. Opt for one or two platforms to focus on and optimize your plan down the road. For example, set up all your author pages and decide on a main account (like Instagram) to get comfrotable with.
To help you figure out the specifics, let's go over how to create your own comprehensive digital marketing strategy for digital publishers.
How to Create a Comprehensive Digital Marketing Strategy for Authors
Now you know what digital marketing in publishing looks like. How to implement it for yourself? Crafting your own marketing plan is serious business; it'll take time and energy. Therefore, I encourage you to bookmark and do a deep dive into this step-by-step guide on how to create a book marketing plan.
Here's a rundown of the process:
First, you'll need to

develop your main strategy

. This requires conducting market research and defining your target audience, goals, budget, and other guidelines. You'll ask yourself questions like: Who are my ideal readers? What's my unique selling proposition? What and how do I measure my results?
Second, you'll

choose tactics

that best align with your overall strategy. To choose your tactics (such as running giveaways on TikTok), you'll need to learn about the numerous marketing tactics out there. See this indie book marketing plan for a list of tactics.
Lastly, you'll put everything together into a

book marketing timeline

that aligns with your book launch and overall self-publishing timeline. Here's an example –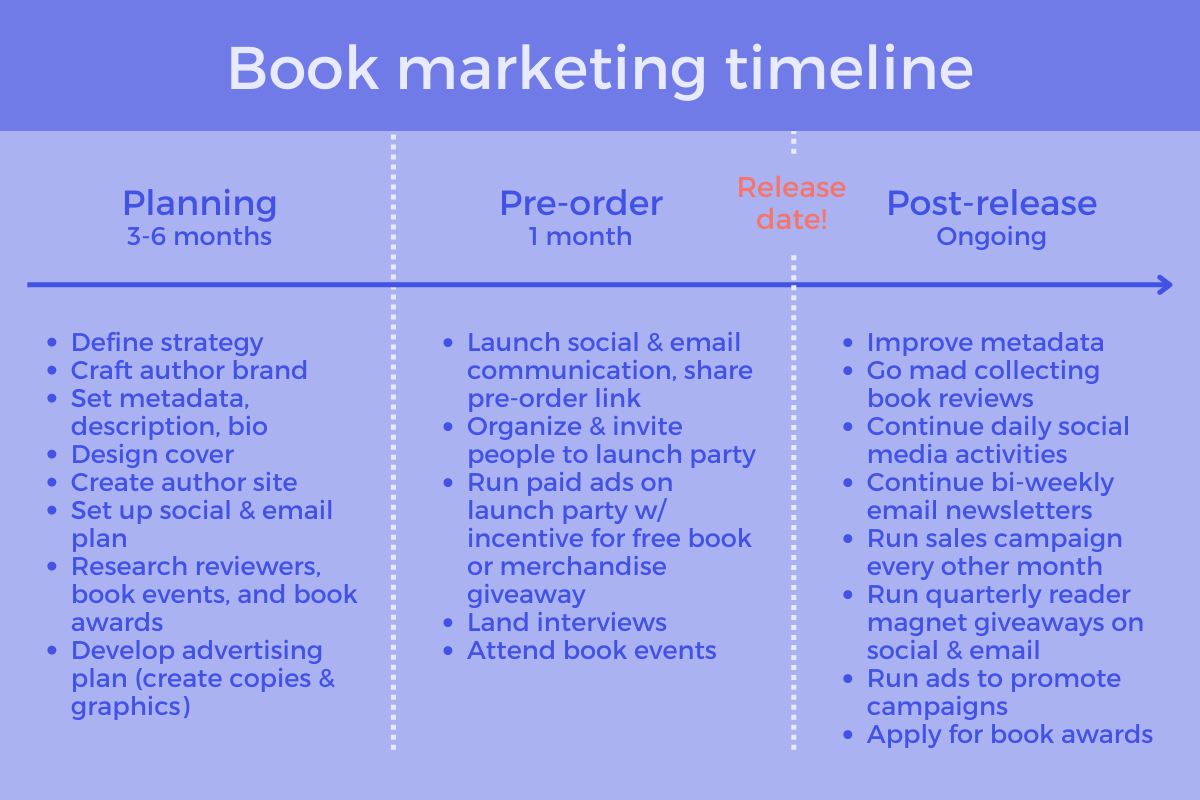 By the way, digital marketing goes hand in hand with content marketing for publishers. As you can see, almost everything you do with digital marketing will require some kind of content, whether in the form of words, graphics, or video clips. You're going to need to get really good at showcasing the value of your book through your promotional pieces.
That's why it's critical to start off with a solid strategy that outlines who your intended audience is. If your ideal readers are older folks, you wouldn't want to be writing your Facebook posts with Gen Z emojis. Make sense?
How Digital Publishers Can Support Authors With Online Tactics
If you're a publishing group helping authors, here are specific ways to help support and empower your authors in their digital publishing gig:
Ensure a team of talented professionals

who can help guide the entire promotion process from strategy-building to implementation. You'd want pros like social media savvy experts, content creators, designers, website builders, email builders, and publishing pros who know what it takes to introduce a book to a global audience.

Each author should have a comprehensive digital marketing strategy

tailored to their unique needs, including budget, target audience, and more, as mentioned above.

Get organized

by having a system for measuring results, such as doing weekly or monthly analytics check-ins. You also want an effective way to allocate tasks, store shared documents, and more. Check out business management tools like Hubspot, social media tools like Metricool, communication tools like Slack, and other work tools like Google Drive.

Plan a campaign and pre-order period for every book launch.

Create a launch schedule and leverage online tactics like webinars, live streams, and social media giveaway events.

Organize virtual book tours

for your authors to visit various blogs, podcasts, and social media channels to discuss their books.

Use a distribution platform like PublishDrive,

where you can manage numerous books across formats (ebook, print, audiobook), across stores, and across countries. See how J-Novel Club uses PublishDrive to release 20 volumes per month, handle over 700 titles, save a ton of time with automated tech, and reach thousands of stores and libraries for their aut hors.
PublishDrive helps with every step of the publishing journey, including book upload, distribution, royalty reporting, and marketing! With a suite of marketing tools, PublishDrive authors and publishers were able to double their sales in 2023. ↓
Need Help With Digital Marketing in the Publishing Industry?
PublishDrive is your all-in-one platform for managing books in thousands of channels around the globe. Plus, don't miss out on a suite of book promotion services:
✅ Featuring opportunities with big retailers like Apple Books and Scribd.
✅ Special promotional spots throughout the year.
✅ Tools for collecting book reviews, scheduling price promotions, and more.
✅ AI support on running Amazon ads, choosing book categories, and more.