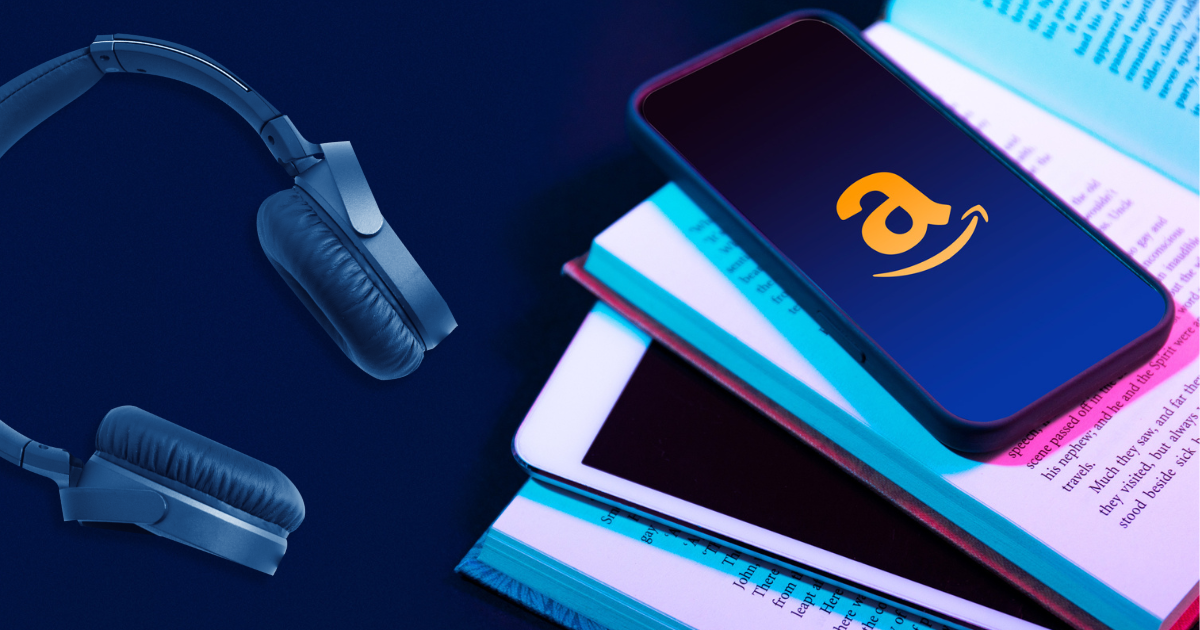 Wondering how to sell audiobooks on Amazon? Smart move. If you've got a manuscript in hand, there's no reason not to turn it into an audiobook. The audiobook market is the most lucrative it's ever been:
A majority of U.S. adults listened to an audiobook in 2023.
Audio revenue increased by double digits for the 11th year.
Audio is the fastest-growing segment in publishing.
And, Amazon captures almost half of audiobook sales. The other half is captured by retailers like Apple, Google, and many more. To maximize your selling potential, you want to sell on Audible Amazon plus everywhere else – a self-publishing tactic known as publishing wide. With the right distributor, there is a way to reach them all.
This guide goes over how to sell books on Audible and other stores you shouldn't miss. Let's go over what to know, from how to produce an audiobook to which audiobook distributors are available for wide distribution. ⬇️
First Up, How to Create an Audiobook
Creating an audiobook involves turning your completed manuscript into the appropriate audio files needed for store upload and distribution. There are three main steps.
Step 1. Reform your cover design
When submitting your audiobook for publishing, most stores require your 1) audio files and 2) cover art design. If you've already got a print or ebook, all you need to do is resize your design so that it fits audiobook standards.

Your cover should fit these requirements:
Be a perfect square – at least 1400 x 1400 in resolution
Be less than 5 MB in file size
Be in JPG format
See this guide for more details. And do check out what other audio covers look like in your genre. Take a look at these covers distributed through PublishDrive:

Step 2. Prep manuscript for audio recording
The bulk of your audiobook production process goes towards getting your narrations done. But before you can get there, you'll need to prepare your current manuscript so that it's narration friendly. Run through your manuscript and remove anything that doesn't make sense when reading it out loud. You'll also need to add certain elements.
Follow these pointers:
Delete hyperlinks
Delete captions
Delete images and tables
Delete call to actions and click here prompts
Add opening credits: note the name of your audiobook, name of author(s), and name of narrator(s)
Add closing credits: must at least note "the end"
List chapter numbers and titles: each chapter of your audiobook should be a separate audio file and narrated out loud with at least "Chapter 1"
Tip: listen to a couple of audiobooks (especially those in your genre) and see how they flow. Pay extra attention to the opening and closing credits, along with chapter introductions.
Step 3. Record your audiobook
After going through your manuscript, you're ready to record. You can either hire a narrator, record it yourself, or use a full-service producer.
Option 1: Hire a narrator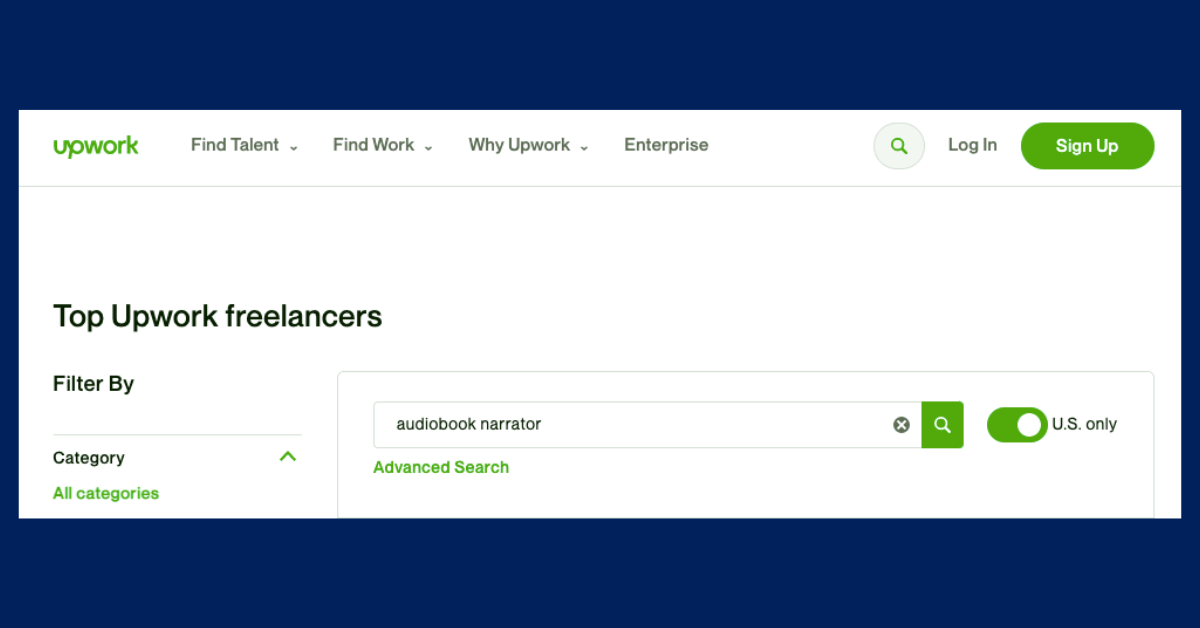 If you have the budget for it, I recommend looking for professional narrators on sites like Upwork or Voices. Hiring a professional narrator will lessen your workload and ensure higher quality. You can pay a flat rate fee based on the total length of your book. You can also pay for an hourly rate of anywhere between $150 to $400, depending on the narrator's experience.
When reaching out to freelancers, some may ask for a proposal that outlines the scope of work and terms of your offer. Try to offer a rate that will draw in skilled narrators while considering your entire publishing budget, including your marketing strategy. It may also be helpful to create different audio versions or sample clips of your book to share with potential narrators and pique their interest. You can record this yourself with pointers in the next option –
Option 2: Record it yourself
If you choose the DIY route, you'll have to take care of not just the narration, but the technical components. Consider investing in equipment like a computer or iPad, a recording software like Garageband or Audacity, a microphone, and a pop filter for sound equalizing. The other alternative is to book a recording studio.
Additionally, you'll need to understand tech specifics, such as how to export your audio to 192 kbps or how to add a pause between files. See this in-depth guide on recording your own audiobook.
Option 3: Use a full-service producer
The priciest option is to look for audiobook producers that will work for a final product mastered for top quality.
About Audiobook Creation Exchange ACX: You can use Amazon's ACX platform to get connected with narrators, recording studios, and producers that will provide a finished audiobook for you. You can either 1) pay your producer upfront based on a mutually agreed price or 2) share royalties in a 50/50 split.
At the end of your production process, you should have your cover file and narrated audio files ready for upload. Let's look at how to get started selling with the best audiobook publishers.
Choose Where to Self-Publish (Go Wide!)
If you're interested in how to sell Audible books on Amazon alone, all you need to do is go through ACX and choose the exclusive option to sell Audible books. Your title will also appear on Amazon and iTunes. This gives you a higher royalty rate of 40% as opposed to the non-exclusive royalty rate of 25%.
However! Being exclusive means you can't sell your audio title to any other stores for seven years!
The decision to go exclusive or wide will depend on your unique circumstances:
Who is your target audience, and where do they mostly come from? If most of your sales come from Google Books, then it's best to stay wide.
What does your promotion strategy look like? Going exclusive will limit what you can do with your title, such as offering it for free. That means no special sales event.
What does your distribution strategy look like? Maybe you want to sell on your website or test out other marketplaces.
As I mentioned earlier, if you want to maximize your reach, you gotta sell beyond Amazon. Here's a list of the best audiobook services and publishing companies (including selling books on Audible):
Amazon's ACX

Sell in Audible, Amazon, and iTunes
40% royalties if exclusive with ACX
25% royalties if non-exclusive
20% royalties with royalty share

Kobo

Sell in Kobo.com, Walmart, Indigo (Canada's #1 bookstore), and Bol (an e-commerce shop in the U.K.)
35% royalties for titles $2.99 or lower
45% royalties for titles over $2.99
32% for certain subscription customers

OverDrive

Sell in over 30,000 libraries worldwide
Royalty payouts depend on each library partner
45% royalties with PublishDrive

Gardners

Sell in stores primarily focused on the U.K., Sweden, Poland, and Denmark
Royalty payouts depend on each store partner
60% royalties with PublishDrive

Scribd

Sell in leading subscription service with over 1 million active users
Royalty payouts depend on each publishing partner
80% royalties with PublishDrive
To sell in Scribd, you must go through a distributor like PublishDrive

Google Play Books

Sell in over 40 countries
Royalty payouts depend on each publishing partner
50% with PublishDrive

Findaway Voices

Sell in over 35 stores, including Barnes & Noble, Spotify, and more
80% of the 25% royalties from Audible/Amazon/iTunes non-exclusive rate
80% of the 40-50% royalties from non-Amazon retailers
With PublishDrive, the all-in-one global distributor, you can sell your audiobook in all of the stores listed above (and more!)
How to Sell on Audible & Beyond With PublishDrive
Selling audiobooks on Audible and beyond is super simple with PublishDrive. It takes only four steps to get your title distributed around the globe.
Step 1. Sign up for a PublishDrive account and select the distribution plan (free for 14 days).
Step 2. Upload your cover design and audio files. Then fill out your metadata details.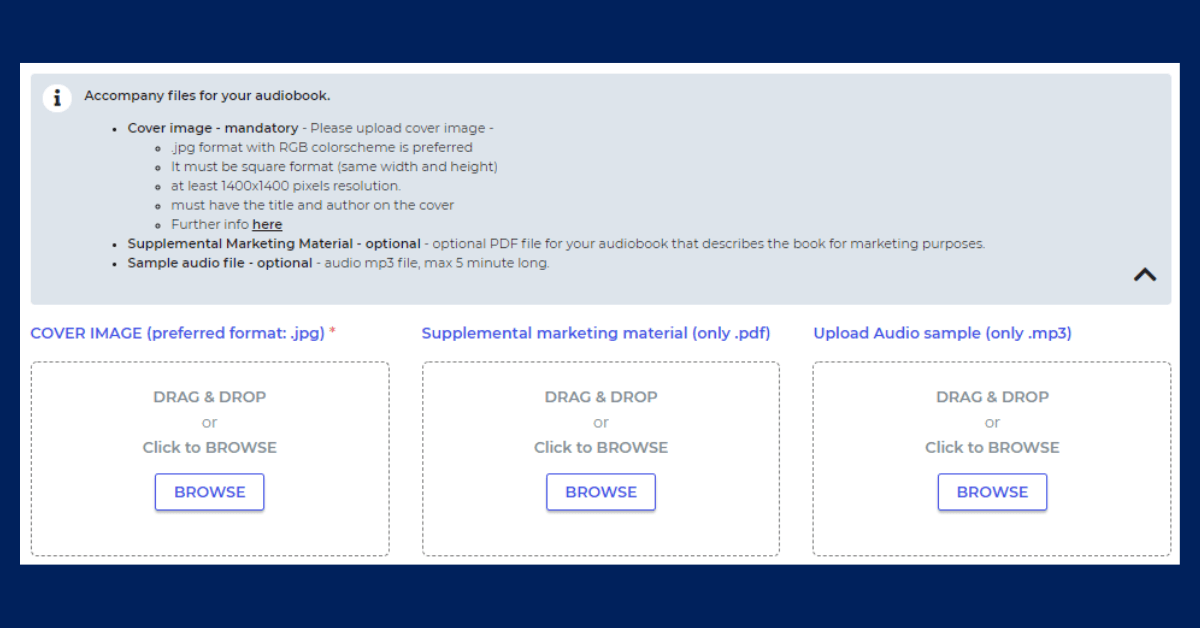 Step 3.
Switch on all the stores you'd like to sell in.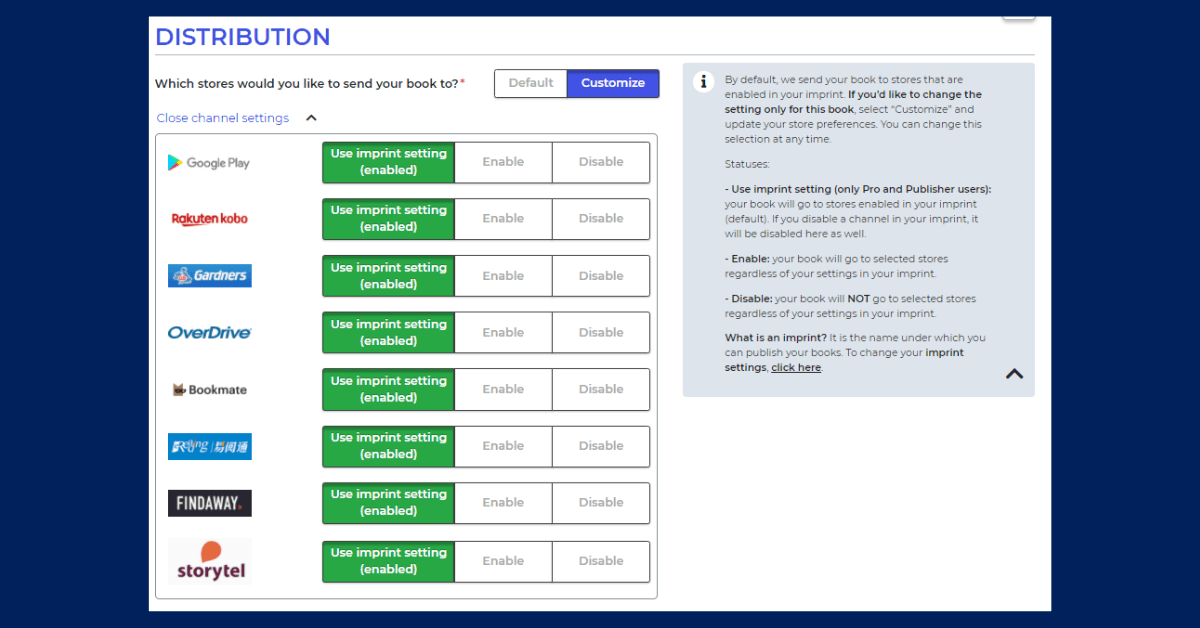 Step 4.
Hit submit for a quick review by PublishDrive's industry experts.
Promotion Tips on How to Sell Audiobooks on Audible & Beyond
After publishing, how to make money selling audiobooks on Amazon and other stores? To actually make sales, you'd have to promote the heck out of your title. Here are a handful of best practices to start off with:
Collect book reviews:

In the world of selling digital books, reader reviews are golden. People won't buy unless they know your book is worth buying. Ask your friends, family, and network to leave a review. You want at least five solid reviews before investing too much time and money into your other marketing efforts.

Run sales events:

Running sales events can boost your discoverability (everyone loves free or discounted deals!) And through PublishDrive, you can submit your title for special sales events organized by major retailers like Apple Books.

Get featured:

There are a ton of stores and newsletters that regularly feature self-published audio titles. Through PublishDrive, indies can access free featuring opportunities at Kobo, Scribd, and many more.

Try paid advertising:

Starting with just $5 a month, you can run Amazon ads to display your title to more people. 
PublishDrive's book promotion services can support you with all the tactics listed above. And if you've yet to develop your overall strategy, see this guide on how to create a book marketing plan and book marketing timeline. Good luck!
Now you know how to sell audiobooks on Amazon and everywhere else…
What next? Manage your entire self-publishing gig on a single dashboard:
✅ Publish audiobook, ebook, and print books.
✅ Distribute in thousands of stores.
✅ Get royalty reporting support, marketing tools, and more.