Self-publishing
How To Write A Romance Novel: Tips For Getting A Romance Novel Published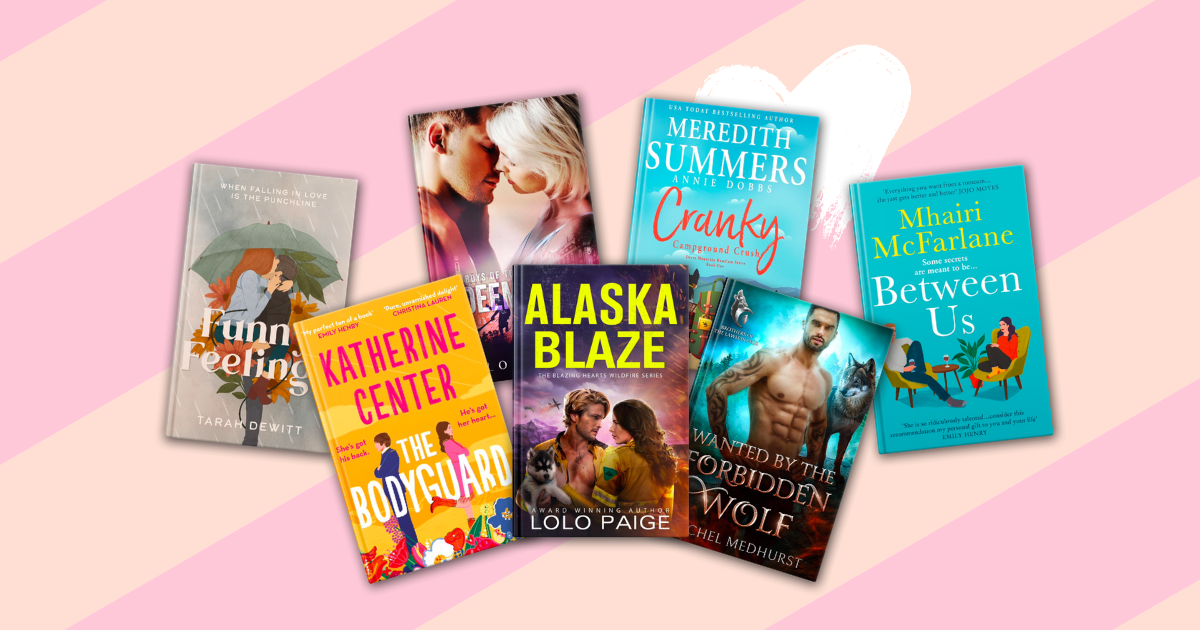 If you're looking to delve into the realm of passion, yearning, and happily-ever-afters, you're in the right place. This guide will show you how to write romance. 
From understanding the desires of romance readers to unlocking the secrets of successful romance authors, we've got you covered. 
Let's see how to get a romance novel published and make your mark in the bustling world of romantic literature. 
Self-Publishing Romance: An Overview 
The world of romance writing is ripe with opportunities for both new and experienced authors. With the help of self-publishing platforms, you now have the option to self-publish your romance novel, gaining creative control and higher royalties. 
However, if you seek the traditional route, there's a multitude of romance novel publishers eager for the next great love story.
The industry in numbers 
The industry is teeming with romance publishers who, working closely with their authors, churn out many romance books. 
Successful romance authors understand the delicate balance between capturing the heart's yearning and the art of good romance. 
Writing romance is more than just creating a love story. As a romance writer, your goal is to create a connection so strong that each published book leaves a mark on your reader's heart. 
Romance is a flourishing industry, generating over $1.44 billion and selling 39 million printed units over the last 12 months as of May 2023. This represents a significant growth of 52% compared to the previous year, marking the third consecutive year of increasing romance novel sales in print. In fact, the sales more than doubled compared to figures from 2021.
The genre dominates the mass-market paperback format, accounting for over 33% of all books sold. As the fastest-growing genre of fiction, romance contributed to 66% of adult fiction growth in 2022. 
Romance novel trends
Here are some popular trends in romance writing to get you inspired and in tune with what's hot.

1. Romance meets women's fiction
Many novels in this category now straddle the line between romance and women's fiction, shifting from the traditional third-person, past-tense narration to first-person, present-tense narratives. 
2. Traumatic storylines & dark romance
An increase in the popularity of Dark Romance shows readers' interest in more intense, taboo, and sometimes disturbing themes. These narratives often involve elements of trauma or controversial topics, making them more akin to erotica. If you're contemplating self-publishing romance novels, this trend might be worth exploring if you're comfortable with it. However, make sure you mark the content appropriately in your metadata. 
3. Romcoms
The world of romance also sees a surge in romcoms, offering readers a delightful blend of humor and heart-fluttering romance. These stories are a source of light-hearted comfort and escapism, presenting awkward characters and humorous misunderstandings amidst love stories.
4. LGBTQ romance
There has been exponential growth in the publication and popularity of LGBTQ romance novels. From 2020 to 2022, sales for these books have significantly increased, highlighting an important shift in the industry and offering more diverse narratives.
5. Diverse historical romance
Historical romance is evolving, with stories moving beyond the traditional regency settings to incorporate more diverse characters and eras. Though novels featuring the term "duke" continue to thrive, there's a growing demand for more inclusivity in historical romance. This trend can be an opportunity for a new perspective for anyone aspiring to become a romance writer.
Tips On How To Become A Romance Writer
Now you know just how profitable this genre is. Whether you're an avid romance reader wanting to transition into a writer or an experienced author looking for a refresher, let's go over the basics for writing romance.
1. Know your genre
Read as many romance books as you can. Get specific with the subgenre, like vampire, contemporary, or historical romance. It's important to get a good grasp on how your category is typically structured. Figuring out your subgenre also helps with launching your book later on (I go over this further down.)
Don't know where to start? Check out the works of these romance writers and see how it's done:
If you want to know what's hot on social networks but are social media exhausted and skipped following bestselling lists this season, here is the Goodreads list of the best romance novels.
2. Match the genre tropes
A good romance novel should keep the reader glued to its pages until the end. Here are common tropes to know:
The main characters have complementary personalities or reasons to click.

The couple goes from friends to lovers or rivals to lovers.

The story is plot-driven, with twists, turns, and conflicts. For example, forbidden love.

The first meeting is memorable. Romantic comedy? Maybe an embarrassing one.

The main characters can't help but be in each other's orbit, mainly due to external forces.

There are fun interactions and banter.

The lovers challenge each other (to be better humans) and share vulnerabilities.

The breakup is dramatic and soul-crushing. "This will never work out!"

The character development arc includes sacrifices to get back together. Love over ego.

Eventually, the story rushes to a big declaration of love and commitment. (99% of the time, the lovers end up together happily ever after)
3. Craft your landscape
The landscape of your story plays a critical role in romance writing. It's not just about establishing the atmosphere for the budding love story, but it also influences your characters' origin stories.
Be precise while portraying the setting of your romance novel. It's about more than just the era – it's also about evoking the sensory ambiance of your chosen location. Creating an engaging and immersive setting will enthrall your readers' imaginations, offering a vibrant backdrop for your romance novel and helping them find a romance novel by description. 
Not sure how you can master this? Try reading a book per week, focusing on how successful romance authors establish their settings.
4. Craft engaging protagonists
Successful romance writing hinges on creating powerful lead characters. The readers' investment in your story largely depends on the electric connection between your protagonists.
Ensure that your characters come equipped with intriguing backstories that shape their perspectives about love and relationships. 
Don't underestimate the importance of character development and unique viewpoints for the protagonist's romantic partner, either: the allure of a romance novel lies in the interaction between the lovers. Skilled romance authors master the art of developing rich, multidimensional characters that drive the love story forward.
5. [Don't be afraid to] Learn from the best
Keep in mind that people reading romance stories do so for cliches and stereotypes. As successful romance writer Jane Eyre said, "There is no happiness like that of being loved by your fellow creatures and feeling that your presence is an addition to their comfort."
More recommendations for your writing process:
At the end of the day, pull inspiration from your real-life experiences and daydreams.
How To Publish A Romance Novel
Publishing a romance novel should be the end goal of your writing process. Whether you're aspiring to collaborate with romance publishing companies or aiming to join the ranks of successful indie authors, understanding the publishing process is crucial. 
This section will show you how to publish romance novels, providing insights and key steps to match your tales of romance to an eager readership. 
As you prepare for publication, make sure you give enough time to the following steps: 
1. Editing
For writers, particularly those venturing into self-publishing, it's important to take charge of the book editing process, especially when hiring a professional editor may not be financially feasible.
Even if you plan to pass your manuscript to a professional, polishing it to a near-final draft is advantageous. This involves a thorough understanding of editing techniques, a keen eye for narrative flow, and the ability to spot inconsistencies or redundancies. 
2. Cover design
The importance of a book cover design cannot be understated; authors must ace it to maximize their book's appeal to potential readers. 
With traditional publishers, authors have little control over their covers, but as self-publishing authors, they have the power to create compelling designs, speaking directly to the hearts and minds of their readership. 
Indie authors can either go for a professional designer's services or create the design themselves. Both options have benefits and challenges, including cost, creative control, and the time required. Regardless of the chosen path, the ultimate goal remains to create a compelling cover that entices readers and adequately represents the story within.
Look at PublishDrive's bestselling romance book covers for inspiration. ↓
3. Layout formatting 
The process of formatting your ebook involves two key steps: 
1) preparing and formatting your .docx manuscript for conversion and 
2) importing your suitably formatted .docx file into a conversion software, such as the free ebook converter provided by PublishDrive. 
Both steps ensure your ebook maintains the desired layout and readability across different devices and platforms.
If you want to maximize your reach, you can turn your manuscript into an audiobook or get it ready for print-on-demand.
4. Distribution 
A common choice among indies is to sell solely through Amazon KDP Select, but it turns out this is a common way to miss out on other markets. Instead, you can choose to go wide, distributing everywhere via a book aggregator like PublishDrive.
PublishDrive is an aggregator that offers various ebook, audiobook, and print-on-demand publishing services to assist authors throughout their self-publishing journey. Authors can publish, distribute their books globally, and use the marketing tools provided by the platform to help their books gain traction. 
Additionally, PublishDrive offers a royalty management system to ease the work of co-authors that need to split royalties.
Authors can publish their romance novels and sell them internationally on all major platforms, such as Amazon, Kobo, Apple Books, Google Play Books, and many others, including hard-to-access markets like China. 
To reach all these markets simultaneously, authors must create an account, upload their ebook files, provide the necessary information, and choose the distribution stores.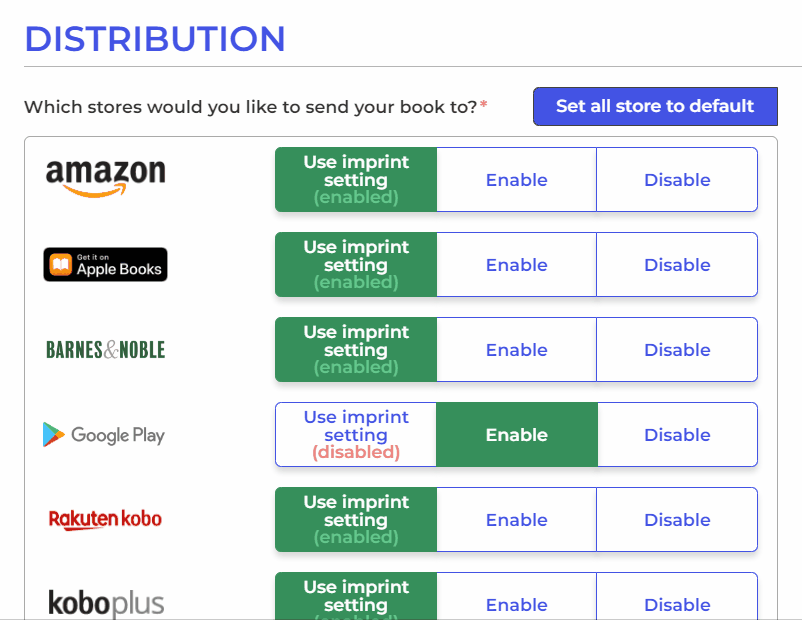 5. Marketing tips
Grow your author brand and business with a solid marketing strategy. 
I suggest reading this guide which expands on every step of the publishing process, and creates your personal strategy on how to sell a romance novel. 
Also, here are some quick tips:
Tip #1: When prepping your book, be sure to optimize metadata. This includes choosing the best (sub)categories, cover design, and adding the strongest hooks in the first two sentences of your book description. Doing so helps your book rank higher in stores and engage the right audience.
Tip #2: Don't just publish an ebook; expand your reach with audiobook and print-on-demand. The most successful indies on PublishDrive sell in all three formats to maximize their selling potential. On PublishDrive, you can publish and manage these different formats with a simple upload process.
Tip #3: Distribute your book to multiple countries where the demand for English-language content is high. Go beyond Amazon, and distribute in multiple stores as well. 
Tip #4: Try publishing a series, an effective way to build up author credibility and relevance in search results. Indies use this tactic to add more reads on platforms like KDP. By the way, a series doesn't mean sequels. You can write three unrelated romance novels and package them together with a series name like "Romance to Read While Traveling."
Tip #5: Invest in your marketing. Tactics like discount campaigns, Facebook ads, Amazon ads, Bookbub ads, newsletter features, and social media swaps with published authors make up a powerful strategy. Promotions help attract readers to your book. Then, items like your cover design, title, blurb, and reviews help convert to sales. 
PublishDrive has a Promotions tab with different tactics you can use in your book promotion.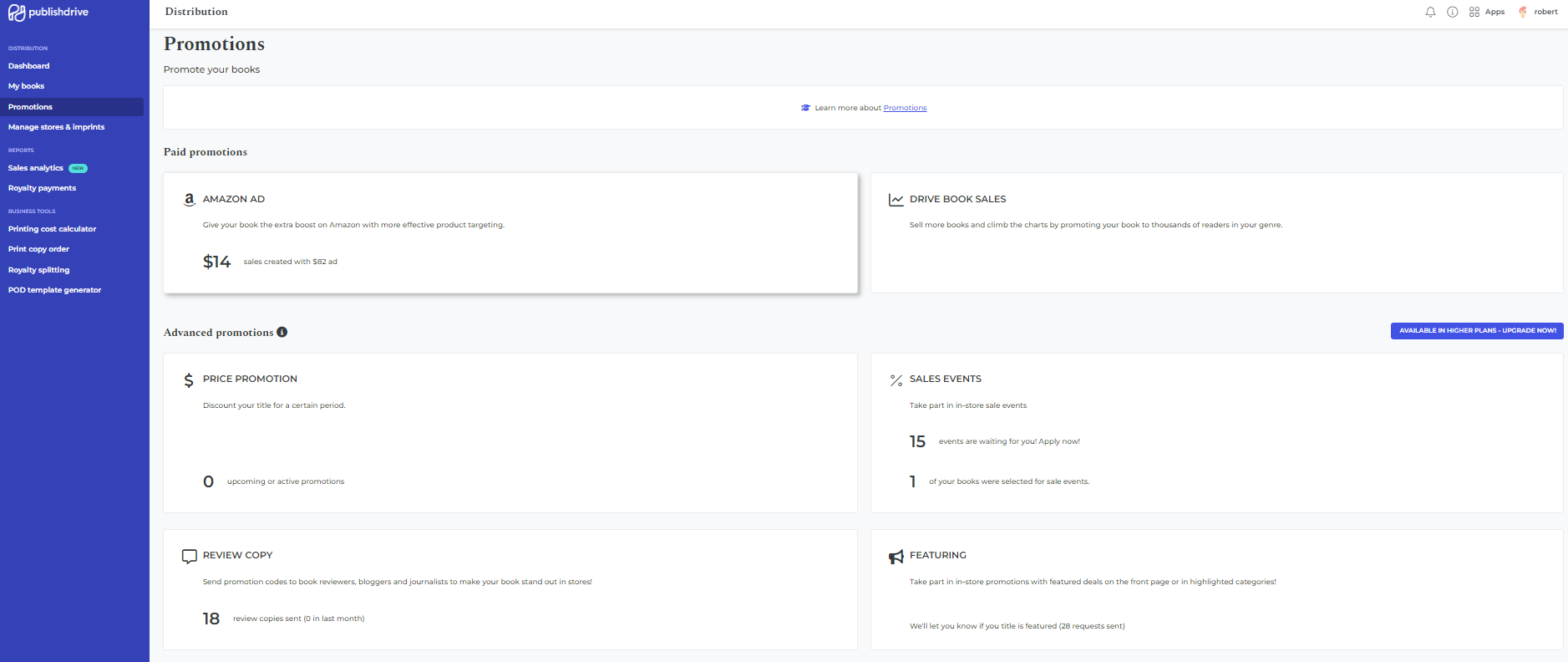 Become a Romance Author 
Becoming a romance author involves a blend of creativity, patience, and strategic planning. You must continually hone your craft, write compelling and engaging narratives, and ensure your book reaches your target audience. 
Publishing platforms like Kindle Unlimited offer a fantastic opportunity to reach a vast audience that loves reading romance, while traditional romance book publishers can provide industry expertise and added credibility. Should you choose to hit multiple markets at once, enjoying the perfect network book aggregators provide, you can join PublishDrive; we would be happy to accompany you in your publishing journey. 
Always remember, every successful romance author started from where you are today. Stay consistent, keep learning, be receptive to feedback, and above all, remain true to your unique voice. After all, it's your unique perspective that will make your romance novel stand out in a sea of love stories. 
When you're ready, sell and promote in thousands of stores worldwide with PublishDrive.