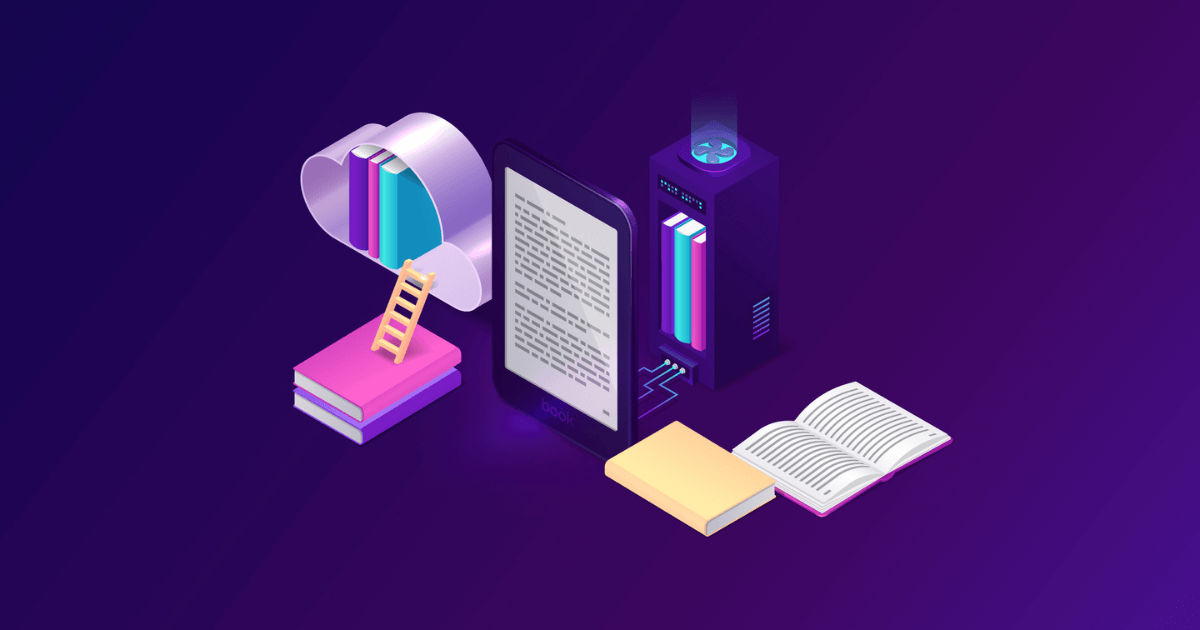 Wondering how to get your books into libraries? Smart move. Libraries are more popular and digital than ever before. Within online self-publishing platforms like PublishDrive, libraries have become a lucrative source of income for thousands of authors and publishers. Ready to join in? I go over how to market your books to libraries – the quickest and easiest way – right below. Spoiler: Going digital is key.
But First, Why Libraries?
There's a common misconception that libraries are dying in the US. If we're talking about physical libraries, it's true that in-person visits have been decreasing for more than a decade. The pandemic exacerbated this trend back in 2020, triggering a 41.6% drop compared to 2019.
However, when it comes to digital libraries, they're more popular than ever. In fact, the market is booming.
During the outbreak of the pandemic, indies selling books to libraries saw their digital library purchases explode by 55% via PublishDrive. Fast forward to 2022, digital book sales increased by 200% overall – online libraries such as Bibliotheca, OverDrive (now Libby), and Scribd influenced much of this growth:
In 2022, WordsRated analyzed nearly 17,500 libraries across the US and reported:
More registered borrowers than ever (174.23 million, or 53.57% of the population)
Total library collection size larger and more digital (58.75% of the collection)
Library collection uses higher and more digital (37.39% of all collection use)
As a whole, "the global libraries and archives market is expected to grow from $73.68 billion in 2022 to $77.91 billion in 2023…expected to reach $93.69 billion in 2027…"
So, why libraries? The market is booming thanks to digital, and the growth isn't slowing down. The book industry continues to shift towards online, whether it's reading formats like audiobooks or purchasing options like digital libraries. For self-publishing folks looking to expand their revenue streams, distributing to libraries is the move to make.
Market Your Self-Published Book to Libraries Everywhere
For the reader, a library option is a low-cost way to read. It's also a low-risk way to try out new content from a new author. For you, a library option can help you boost discoverability and earn more royalties.
To maximize your reach, market your book to libraries to as many channels around the globe. In other words, you want to publish wide (as opposed to sticking with one retailer or market), a golden self-publishing tactic every indie should follow.
There are two ways to publish wide to libraries:
Manually or directly reaching out to various libraries.

You can talk to local libraries to see if they accept submissions from local authors. This method takes invested time and effort. With no track record, it's tough to get a library to green light your book. You can also submit your book to online libraries, such as Hoopla.

Using an aggregator company that will distribute your book to libraries for you.

Aggregators are one-stop shops that can distribute your book to multiple libraries, retailers, and marketplaces.
You can go directly to libraries to obtain full royalty percentages, as most aggregators ask for a cut of your sales. But, the benefits of using an aggregator are massive:
You can reach digital libraries that are only available through third-party services or aggregator partners. These libraries consist of big names like Bibliotheca, Libby, and Scribd, which you don't want to miss out on.
You save valuable time and energy that goes into managing multiple channels, including administrative work such as collecting royalty reports. A solid aggregator should help you distribute to not just libraries but other markets like Amazon.
As for that sales cut, most aggregators ask for around 10% on top of whatever the royalty rates are for individual channels. The alternative is to go with a subscription-based book aggregator, such as PublishDrive, that takes a flat monthly fee. This saves you more money.
All in all, using an aggregator is your best bet for reaching as many library readers as you can.
P.S. I recommend prioritizing digital distribution with an aggregator, but you can still choose to list your book in a physical, local library. Check this guide on how to use a sell sheet to reach out to your public library and more. When you're ready to print a copy of your book, get that done with PublishDrive's print-on-demand service. ⬇
How to Get Your Books Into Libraries With An Aggregator
Okay, you want to use an aggregator, but which one? Here's a sweet graph of the top aggregators to know (they all distribute to libraries):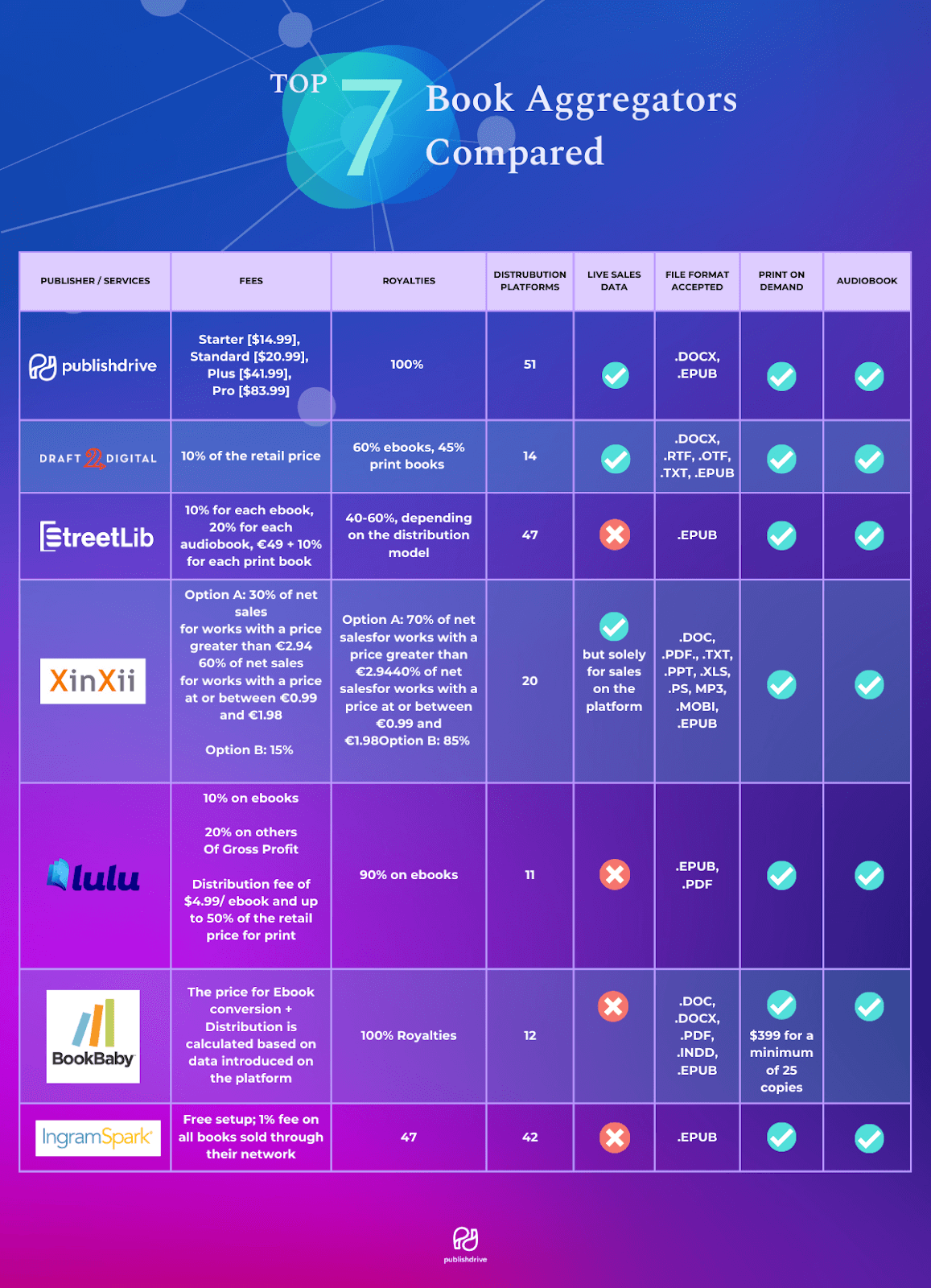 Do check out exactly which stores and libraries these platforms distribute to. Check this guide on top book aggregators compared for a deeper dive.
In a nutshell, here are the major library channels to look out for:
Baker Taylor

has the widest network of libraries, schools, book labels, and more, handling over 1.5 million titles.

CNPeReading

reaches thousands of libraries in East Asia (only available via PublishDrive!)

OverDrive (now Libby)

has a network of over 43,000 libraries and schools.

Scribd

is a leading subscription library system with over 1 million active subscribers.

Hoopla

is a giant library market with over 5 million registered users.

Bibliotheca

provides content to over 30,000 libraries.

Odilo

provides content to over 4,500 library institutions focused on the Spanish market.

Gardners

is a leading library wholesaler in the UK.
PublishDrive reaches all the channels mentioned above and more – over 240K libraries total.
It takes 4 steps to market your book to libraries with PublishDrive
Sign up for a PublishDrive account and select the distribution plan (free for 14 days).
Upload your cover design and book files. Fill out the metadata and information about your book.
Simply switch on all the stores and libraries you'd like to sell in.
Hit submit for a quick review by industry experts.
After being approved by PublishDrive's review team, your book should start showing up in libraries in less than a week.
About library pricing: Libraries use different pricing models compared to standard royalty rates used by retailers like Amazon. For example, Hoopla triggers a sale whenever a reader borrows a title. Bibliotheca uses a pay-per-use model to purchase books. PublishDrive automatically generates and calculates various pricing models for you, made easy to digest.
Tips on How to Promote Your Book to Libraries
You now know how how to get your books into libraries, but getting your book listed in a library won't necessarily attract readers to borrow it. Perhaps the more crucial question is how to promote your book to libraries. Here are some pointers to help you get started –
First of all, library distribution is already a powerful marketing tactic in and of itself. That's because the decision to do so comes down to discoverability. To increase your discoverability, it's vital to publish wide to numerous markets and store types.
Additionally, some libraries provide periodic marketing opportunities for published authors. Hoopla offers promotions via email campaigns, app push notifications, and more. Bibliotheca and Odilo offer newsletter features. You can access these book promotion services with Hoopla plus many other libraries and stores with PublishDrive: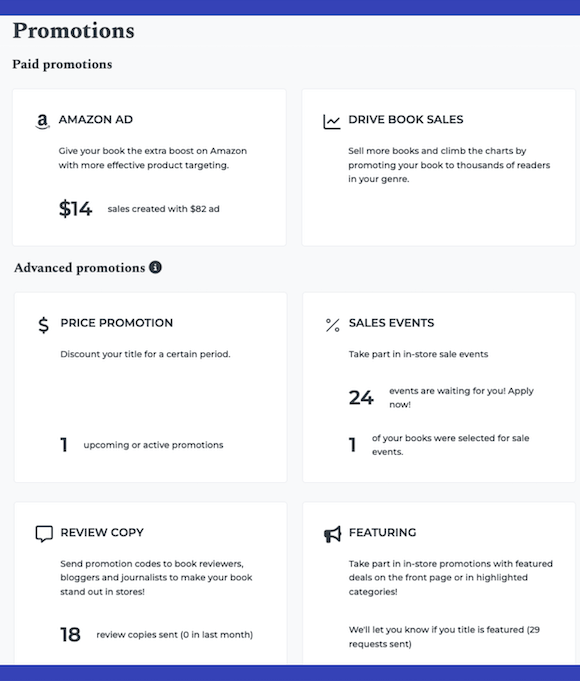 More marketing actions:
Collect book reviews:

People won't read your book unless they know it's worth starting. Ask your network to leave reader reviews on spaces like Amazon or Goodreads. You want at least five solid reviews.

Run sales events:

Running sales events can help boost visits to your book page. Try offering your book for free for a limited time. You can schedule campaigns like this with PublishDrive's Price Promotion tool. You can also submit your book for special sales events, as mentioned above.

Try social media ads:

If you've got a Facebook or Instagram account, try running paid ads on your book to boost engagement. You can start for as low as $5 a month on Facebook. See this guide on Facebook ads for authors.
If you need help creating an overall promotions strategy, see this step-by-step guide on how to create a book marketing plan and book marketing timeline.
Hope this helped. Good luck!
How to Market Your Book to Libraries ASAP?
Now you know how to sell your book in a library with a global aggregator like PublishDrive. Watch the self-publishing platform in action:
✅ Publish audiobook, ebook, and print books.
✅ Distribute in thousands of library channels and beyond.
✅ Get royalty reporting support, marketing tools, and more.