Self-publishing
Guide to Self-Publishing in Australia. How Indie Authors Can Reach Worldwide Readers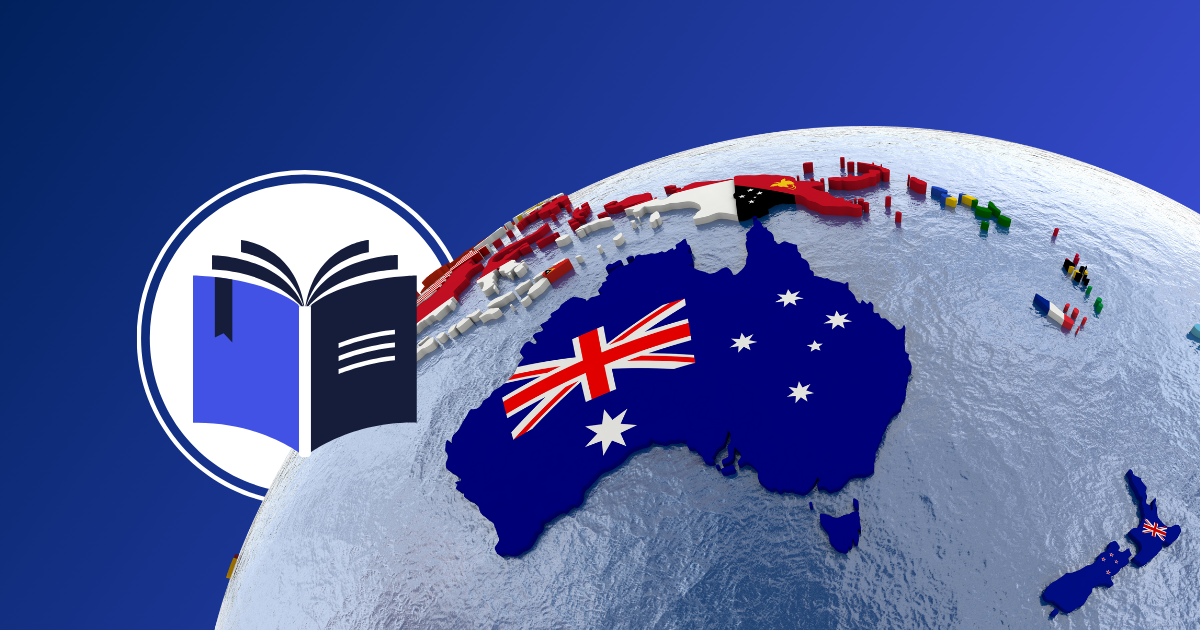 Self-publishing has become one of the go-to options for authors who want to take full control of the publishing process, and Australian authors are no strangers to this. 
In fact, according to the 2022 National Survey of Australian Book Authors – A summary by the Australia Council for the Arts:
"While the most common form of publishing is with a traditional publisher, self-publishing is increasingly prominent. At least one-third of authors have self-published a book during their career, and one-fifth of authors in the past year. Self-publishing is most popular among genre fiction authors, with almost two-fifths of genre fiction authors having used this model."
In this blog post, I'll go through the benefits of self-publishing, a list of some of the best self-publishing companies from Australia, and how Australian authors can self-publish their books to reach global audiences.
Why Choose Self-Publishing?
Self-publishing has become a viable option for authors. Here are some of the key reasons why self-publishing in Australia can be a great choice:
1. Creative control
Self-publishing allows authors to maintain complete creative control over their work. They can decide on the book's content, cover design, formatting, and release date.
2. Faster time to market
Traditional publishing can be a lengthy process. You need to find an agent, secure a publishing deal, and go through many rounds of edits. With self-publishing, authors can get their work into the hands of readers faster.
3. Higher royalties
In traditional publishing, authors usually get a royalty percentage ranging from 10% to 25% of the book's sales
.
In contrast, self-published authors earn higher royalties per book sold, sometimes up to 70% or more, depending on the platform they use
.
4. Global distribution
Most ebook distributors offer worldwide distribution to a massive audience. This means authors can reach readers globally without complex distribution deals.
5. Long-term availability
Once a book is self-published, it can remain available
indefinitely
, unlike traditional publishers that might
discontinue
books if they don't perform well in sales
.
6. Niche markets and unique content
Traditional publishers often focus on mass-market books. With self-publishing, authors can cater to unique audiences and explore specific subjects that may not be attractive to traditional publishers.
How to Self-Publish Your Book in Australia
If you're just starting or want to make the most out of your indie publishing career, here are the steps you need to take before publishing your book.
1. Edit & format your manuscript
As an indie author, you'll be actively involved in manuscript editing. The best option is to hand it to a professional editor. Still, before that, you must revise your draft multiple times to ensure coherence in characters and plot (for fiction writers) or accuracy in information (for non-fiction writers).
If we talk about digital publishing, you need to handle ebook formatting. If you want to expand your reach even more, you'll also have to deal with formatting your manuscript to turn it into an audiobook or get it ready for print-on-demand.
⚡Here are a few blog posts to help you with each:
2. Design a book cover
Book cover design is another important part of your publishing process. You can either do it yourself if you feel comfortable with it or outsource it to a professional designer. 
Book cover design plays a significant role in self-publishing as it can impact a book's success by attracting readers, conveying its content, and reflecting the author's professionalism and brand. 
⚡See more about book cover design here:
3. Choose the self-publishing platform
An important step in self-publishing in Australia or anywhere else is choosing the platform that fits your needs. 
Find one that doesn't do just self-publishing. Many platforms offer book formatting and marketing services besides publishing services. 
Also, keep in mind that as an indie author, you must market your book and go wide to make a bigger profit. 
💡What does it mean to go wide? Some indie authors choose to be exclusive to a platform such as KDP Select. Still, others distribute through an aggregator to hit multiple distribution channels globally or "go wide."
There are a few self-publishing companies in Australia to choose from, such as:
But you can always go for well-known self-publishing companies such as:
Amazon KDP

Apple Books

Google Play Books

Barnes & Noble
The third option is to choose an aggregator such as PublishDrive and distribute to all these well-known stores and many others.
💡What is PublishDrive? An aggregator that will help indie authors and publishers to publish, distribute and promote their books worldwide. The platform works on a flat fee subscription basis, so you'll keep 100% of your net royalties.
With PublishDrive, you can reach book distributors for self-publishers in Australia and outside to make sure your book will go internationally.
The cost of self-publishing in Australia depends on the platform you choose and the way you deal with book production. If you choose to do everything by yourself, it's cheaper, but if you work with professional editors and designers, it will be more costly. However, the second option might be the safest.
⚡Want to know more about this topic? Read our blog post:
Australian Authors Who Chose to Self-Publish & Have Done It Well
As I said, self-publishing in Australia is not a new topic. There are quite a few local platforms and Aussie authors who chose to self-publish.
Here are a few indie publishers from Australia:
If you're still unconvinced about self-publishing companies from Australia or other countries, you can always try to go with a traditional publishing house. There are even Australian book publishers accepting unsolicited manuscripts.
However, if you're ready to self-publish, here's a short guide on how to do it with PublishDrive.
How to self-publish with PublishDrive
When you have the formatted manuscript and book cover design handy, go to PublishDrive and start the self-publishing process. 
Register/sign in

to your account.

Go to

My Books

and click on

Upload Book

(here, you also have the

Bulk Import

option), then choose the format.

Upload the necessary files (this depends on the type of book you're publishing)

Add information about the author(s), metadata, categories, price, and rights (here, you can set a

pre-order

).

Choose the

book distribution

by enabling the stores you want to sell in.
How to Market Your Self-Published Book in Australia & Beyond
When promoting your self-published book, the most important thing is to make sure you've published it wide. This is about maximizing your reach and revenue streams, especially if you also use a few marketing tactics for promoting your book. 
As a self-published author in Australia or anywhere else in the world, you have to be a marketer too. 
But this can be a fairly difficult task if you think about how many strategies you can use out there.
You should focus on just a few important ones, such as:
Create an author website:

Books

are sold

mainly

online in digital publishing

. This means you need active engagement with online audiences. An author website can be a central place where people can discover you as a credible author.

Create an author brand:

An author brand outlines the way you present yourself across various marketing channels. It's an image people will associate you with.

Set up author pages:

If you're selling on Amazon, create your author page to allow readers to learn more about you. Consider setting up an author page on Facebook and Goodreads too.

Handle metadata optimization:

Metadata includes information about the author, title, subtitle, description, series information, language, categories, keywords, reviews, and price. They appear in the stores you distribute to and influence your discoverability and engagement with readers.

Write a good book description:

When people browse for books, your book description is among the first elements they see

. Make sure to include powerful and compelling hooks right in the opening sentences.
Establish an email strategy: As the co-found of Slack, Stewart Butterfield, said: "Email is the cockroach of the internet," and for a good reason.

While other trends come and go, your mailing list will remain one of your most powerful marketing tools

. Build an email list and engage with it whenever you have something new or important to say.
Gather book reviews:

This is an author's #1 priority

. People won't buy when there are zero reviews. Ensure you're collecting book reviews as a part of your author marketing plan.

Set up pre-orders:

Start a pre-order period to collect reviews and increase your sales count before the launch day. This also increases the chances of landing on bestseller lists.

Create a social media strategy:

Social media offers significant potential for discovery. Establish a dedicated account on at least one of the major platforms, such as Facebook, Instagram, Twitter, or TikTok.
⚡We have a detailed guide on all these book promotion strategies and a few others in this blog post: 
PublishDrive Book Promotions
PublishDrive made book promotion easier. We've created a Promotions tab on our platform, where indie authors and publishers can enter and set different book promotion services.
What you'll find in PublishDrive:
1. Amazon Advertising: Your book will be displayed to shoppers actively searching or viewing products on Amazon.
2. Book promotion on sites from Written Word Media
Freebooksy

: for titles that are always free or free for a limited time;

Bargain Booksy

: for titles that are priced at $3.99 or below;

Red Feather Romance

: for romance titles that are free or priced below $4.99;

NewInBooks

: for titles released in the past six months.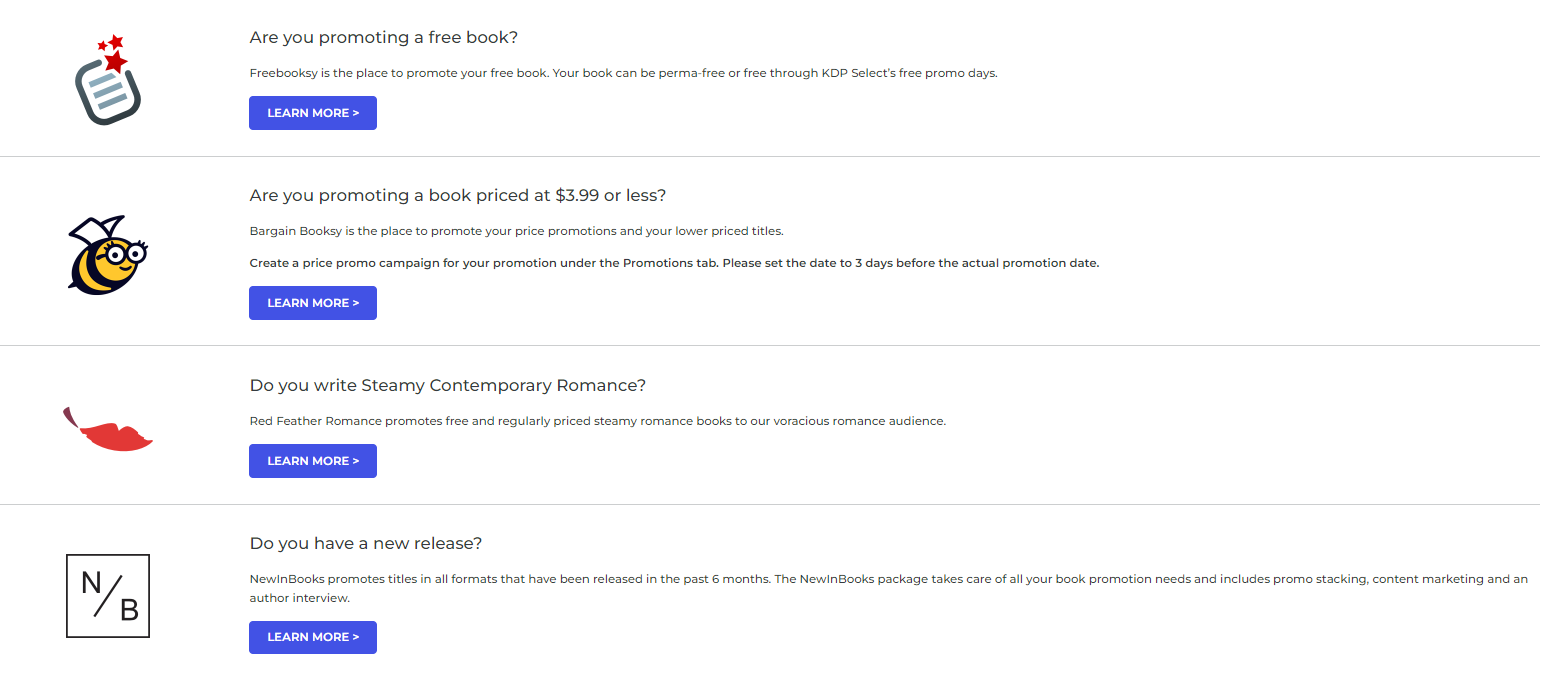 3. Price promotion in your enabled stores (the ones you selected in the publishing process)

4. Review copies: PublishDrive offers review ebooks for promotional purposes in the major stores (currently in Apple Books-iTunes, Google Play Books). These are protected copies available for 28 days that cannot be forwarded or copied beyond the intended recipient. 
5. Sales events: apply to different available sales events straight from the platform.

6. Book featuring in ebook retailer's selection.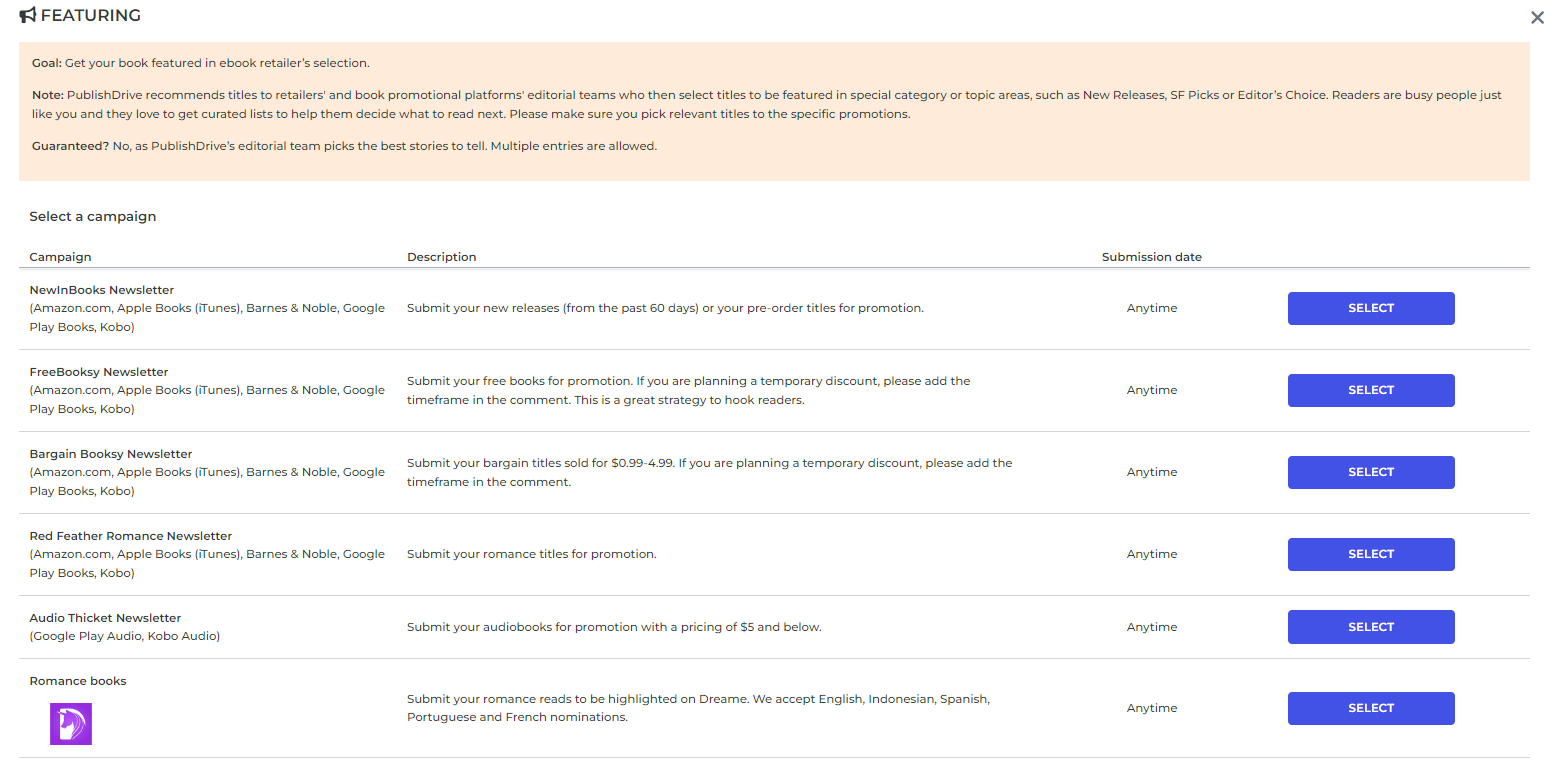 Conclusion
Self-publishing in Australia presents a great opportunity for indie authors to bring their creative visions to life
. They can reach a wide audience without the need for traditional publishing routes.
Wherever you're ready, PublishDrive will help and guide you through the process.