Book Marketing
How to Promote Your Audiobooks: 14 Tips to Use in Audiobook Promotion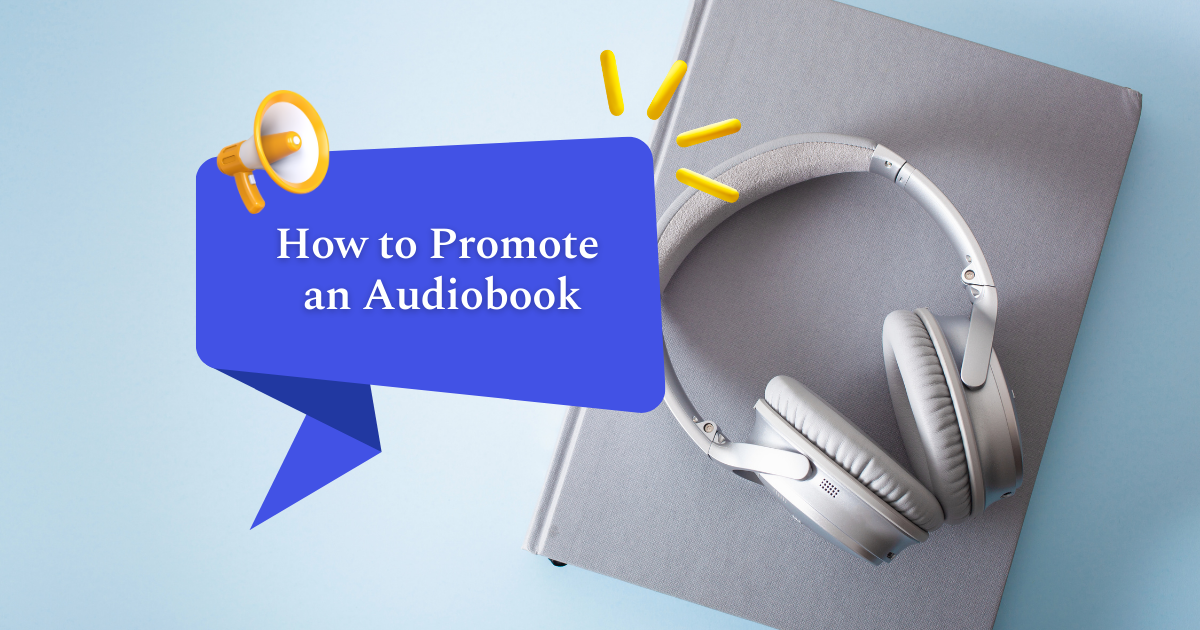 With the demand for audio content soaring to new heights, indie authors and publishers find themselves standing at the crossroads of an exciting opportunity to get to a wider audience.
But to leverage this chance, they must know a few tactics related to audiobook promotion.
So, let's see a few tactics on how to market an audiobook.
This article goes over:
14 Tips on How to Market an Audiobook 
Creating an audiobook can be hard work, and it's only natural you want it to get to as many audio listeners as possible. For that, you need to increase the chances of your work being discovered. That's possible through audiobook promotion.
So, let's see how to market audiobooks: 
1. Create a landing page for your audiobook
A landing page is a central hub for all your marketing efforts created to promote your audiobook. In fact, each of your books should have a dedicated landing page. This helps you promote one clear thing at a time. 
Then, of course, all these landing pages need to be linked to your author website, which should be in tune with your author brand. 
Once you've created the landing page, add links to bookstores and other retailers where people can buy your audiobook—like Audible, Kindle, and iTunes, plus to all the places you interact with your audience: email signature, bios, descriptions on social media, or your blog.
You should also add a few reviews you've gathered from different reviewers before creating your landing page.
Which takes us to the next step.
2. Gather reviews
Book reviews should be an author's top priority when it comes to audiobook marketing, and not only – ebooks and print-on-demand need reviews just as much.
That's why this is a very important step in learning how to market your audiobook.
Gather an ARC team and reach out to book reviewers, both online and offline. You can request a review on audiobook review sites, such as AudioFile Magazine or AudioBookReviewer.
Give them complimentary copies and politely request an honest review. Positive reviews and ratings can significantly influence potential listeners' decision-making process.
Then, make sure to use your reviews on your author website, landing pages, and even social media channels.
3. Become or hire an audiobook narrator
If you have a recognizable voice or a strong presence as an author, consider becoming your own audiobook narrator. Fans of your written work may be drawn to the familiarity and authenticity of your voice. Mention your narration involvement in your promotional materials and leverage it as a unique selling proposition.
If you're new to self-publishing, you can hire a popular audiobook narrator that listeners already like and are familiar with.
Find an audiobook narrator on Facebook groups or platforms like Scribe that specialize in this service.
4. Make your audiobook available for pre-order
You probably have a social media presence on multiple platforms (if not, you should start creating one). Make sure you take advantage of those and announce that your audiobook is available for pre-order. 
Create a list of email addresses. Prioritize friends, family, and LinkedIn connections. Then, expand the list. Use this list to promote your audiobook. Let them know it's available for pre-order.
Since we mentioned the email list –
5. Leverage email marketing
Build an email list of interested readers and fans of your written work. You can get email addresses from your website, social media, events, or by having a newsletter signup on your blog. Offer a valuable incentive to encourage people to join your email list. You can offer a free sample chapter, a related short story, exclusive content, or a book discount.
Then, use email marketing to announce the release of your audiobook, share exclusive content or bonus material, and offer special promotions or discounts. 
You can also share author updates about your writing, reviews and testimonials, personalized recommendations, and giveaways.
6. Set & announce a launch date
You can promote a book using social media. If your book is only available as an ebook or audiobook, you may not need to have a physical event. But, for a virtual book launch on social media, you need a strong online presence. 
We've put together a guide on how to launch a book with social media and a few more details to help you decide between a virtual and physical book launch.
For either one you're going to choose, though, you need to set a launch date and promote it on every possible channel. 
Send emails before the launch, on the launch day, and follow up a few days later. You can even sprinkle a special promotion with your discounted audiobook – for a limited time only – in those emails.
7. Use social media for audiobook promotion
When you want to launch a book with social media, you need to plan way ahead of launch week. This means you need to start building a following and learn how to promote yourself as an author to know how to promote an audiobook. 
In promoting your audiobook on social media, you can share quotes, your audiobook cover image, or the reviews you gathered during pre-order. To make eye-catching visuals for sharing, you can use a free tool like Canva, which has all the elements you need.
You can also use audiobook samples to share with your followers.
Which brings us to the next tip on audiobook marketing.
8. Include audio samples in your audiobook marketing
How to get your audience to peek inside an audiobook? 
With audiobook samples. 
An audiobook sample is an audiogram, which is an audio snippet played as a small video with a moving waveform over an image. You can use a tool like Headliner app to create them or make them using Sound Cloud.
Use your email list and send audiobook samples before the launch date and during the launch week. They can be sent together with your audiobook cover to hook your audience even more. 
But don't stop there. 
You can create a shareable audiobook sample that you can use on social media, embed on your website, or use on video platforms.
9. Create a captivating trailer 
Produce a high-quality audio trailer that highlights the best elements of your audiobook. It should create intrigue, capture the listener's attention, and provide a taste of the narration style and storyline. 
Share the trailer on your website, social media platforms, and relevant online communities to generate excitement.
10. Use paid advertising in your audiobook marketing
Self-published authors need to know how to promote audiobooks for better sales. It's not enough to publish audiobooks and wait for people to find you. Sometimes, you need to help them discover your work, and that might include paid audiobook marketing.
If you're interested in using paid advertising to increase your audiobook sales, here are a few steps to get you started in paid advertising:
Define your target audience
Before you start any advertising campaign, identify your target audience. Determine the demographics and interests of your ideal audiobook listeners. This will help you create more targeted and effective ads.
Choose the right advertising platform
There are various advertising platforms available for promoting your audiobook. Consider platforms such as social media advertising (e.g., Facebook ads, Instagram), Google Ads, Amazon ads, or display advertising on relevant websites.
Determine how much you're willing to spend on advertising. Set a budget that is reasonable and aligns with your marketing goals. Start with a smaller budget, then you can adjust your budget according to the ad's performance.
Craft compelling ad creatives
Design engaging ad creatives that will grab the attention of your target audience. This includes compelling copy and eye-catching visuals. Highlight the unique selling points of your audiobook and its benefits to entice potential listeners. You can easily design the visuals in a platform like Canva. 
Narrow your audience based on demographics, interests, location, or other relevant criteria. By targeting specific groups, you can maximize the effectiveness of your ads and reduce unnecessary spending.
Monitor and optimize your campaigns
Regularly monitor the performance of your advertising campaigns—track metrics such as click-through rates, conversions, and cost per acquisition. Identify the ads that are performing well and adjust or stop the underperforming ones. 
Implement retargeting strategies to re-engage with users who have shown interest in your audiobook but have yet to make a purchase. By displaying targeted ads to these users, you can remind them about your audiobook and potentially convert them into customers.
Use PublishDrive to promote your audiobook on Amazon
On PublishDrive, anyone can set up Amazon ads with its Amazon ads tool. You don't need to distribute your book through PublishDrive to use the tool. Just create an account and start a draft of your book. Then, fund your campaign, select your book, and enter the campaign details.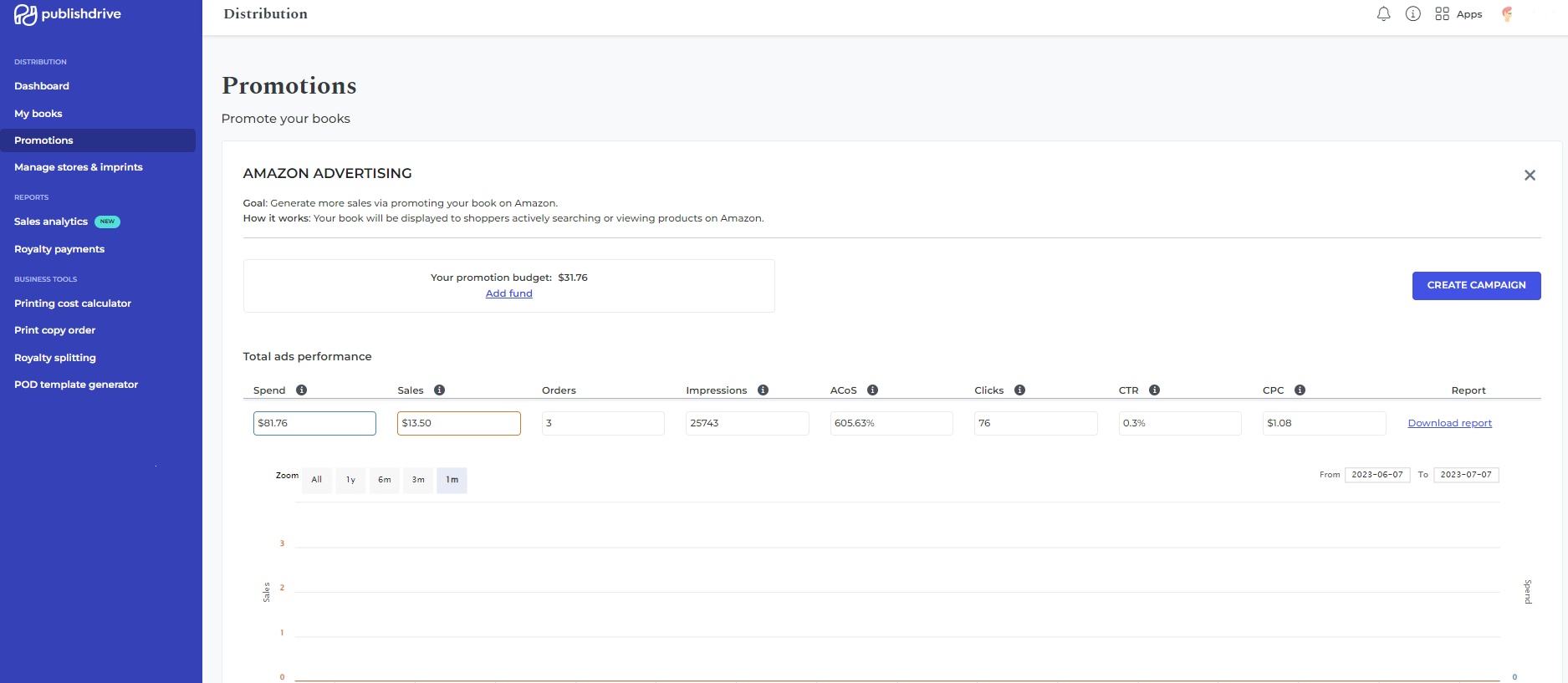 We've put together a detailed guide on Amazon ads to help you navigate the paid advertising realms. 
Note: Advertising strategies and platforms may evolve over time, so staying updated with the latest trends and best practices in audiobook marketing is advisable.
11. Use audiobook promotion services
How to market your audiobook better than with discounts? Avid readers and audiobook listeners will buy your audiobook faster if you use sales events as a tactic in your audiobook promotion.
And there are audiobook promotion services that can help you with that. 
One example of an audiobook promotion site is Chirp.
Chirp is the BookBub for audiobooks. It's a specialized form of paid advertising focusing on audiobook promotion through extensive email distribution lists. 
To qualify for promotion services and inclusion in Chirp's lists, your audiobook must be offered at a discounted price. Chirp specifically favors substantial discounts that provide unique and compelling opportunities for their listeners, so to maximize your chances of being featured, ensure that your audiobook has not been discounted for an extended period when you submit your application. 
12. Leverage influencer collaborations
Partner with influential individuals or content creators in the audiobook or literary space. Reach out to book bloggers, YouTubers, podcast hosts, or social media influencers who have an engaged following and ask them to review or feature your audiobook. They can also mention there's an audiobook promotional code they can use for a limited time to tap a little into the good old fear of missing out technique. 
 Their endorsement can significantly impact your reach and credibility.
13. Engage with online communities
Join online communities, forums, and social media groups dedicated to audiobooks, literature, or your specific genre. 
Engage in discussions, provide recommendations, and share your audiobook when relevant. Focus on building genuine connections and establishing yourself as an active and helpful participant in these communities.
You can also participate in podcast interviews if the opportunity ever occurs.
14. Use the audiobook as an upsell
Authors offer their audiobook version at a reduced price as an additional purchase when someone buys their ebook. Creating an offer with audiobooks and ebooks together is quite popular. Amazon has incorporated this option, even for independent authors, and it's working through Whispersync. 
Whispersync is a system by Amazon that allows readers to switch between the ebook and audiobook format of the same book. The trick is that they need to be identical, but if someone owns both the audiobook and the Kindle Book of the same title, they can switch from one to the other without losing their place.
If you want to use your audiobook as an upsell, you can create an Audible and Kindle bundle with a matching ebook and audiobook.
Tap Into Various In-Store Opportunities Through PublishDrive
Having a few tactics ready for audiobook marketing can do wonders for your sales. But to increase them even more, you can diversify the platforms you're distributing your audiobooks to. 
No, you don't have to do that with each platform individually. 
You can use an aggregator such as PublishDrive to self-publish, distribute and promote your audiobook on various platforms.
These platforms have built-in audiences actively seeking new audiobooks. Optimize your book's metadata, select appropriate categories and keywords, and encourage listeners to leave reviews to boost visibility within these platforms.
With the audiobook format gaining popularity by the minute, here's your chance to distribute to audio publishers and reach a global audience.
1. Apple Audiobooks
Languages: Any
Stores:

22

Territory focus:

North America, Western Europe, Australia, New Zealand, Japan

Author royalty rate:

45%
Apple Books, a prominent online bookstore, comes preinstalled on every Apple device and has a vast readership spanning over 50 countries.
A notable aspect of Apple Audiobooks is its seamless integration with Apple's ecosystem of devices and services. Users can easily pause an audiobook on their iPhone and resume listening on their iPad or Mac. Additionally, the app integrates with Siri, enabling users to control playback using voice commands.
⚡ PublishDrive Features
Direct publisher account management;

Price promotion opportunities;

In-store featuring opportunities;

Secure review copy distribution tool.
2. Audible
Languages: Any
Stores:

15

Territory focus:

North America, Europe, Asia & Pacific

Author royalty rate:

25%
Audible, a prominent provider of digital audiobooks and spoken-word content, has made significant strides in diversifying its offerings. In addition to its vast collection of audiobooks, Audible has ventured into creating exclusive content in collaboration with authors, celebrities, and various creators
3. Google Play Audio
Google Play Books is preinstalled on all Android devices, reaching billions of readers around the world in over 75 countries.
Languages: Any
Stores: 46
Territory focus

: Argentina, Australia, Austria, Belgium, Bolivia, Brazil, Canada, Chile, Colombia, Costa Rica, Dominican Republic, Ecuador, El Salvador, Finland, France, Germany, Guatemala, Honduras, Hong Kong, India, Ireland, Italy, Japan, Malaysia, Mexico, Netherlands, Norway, New Zealand, Nicaragua, Panama, Paraguay, Peru, Philippines, Poland, Russia, South Africa, South Korea, Spain, Singapore, Sweden, Switzerland, United Kingdom, United States, Uruguay, Venezuela, Vietnam

Author royalty rate: 50%
⚡ PublishDrive Features
Secure review copy distribution tool.
4. Kobo Audio
Languages: Any
Stores: 22
Territory focus: Worldwide, but number one ebook store in Canada and India
Author royalty rate: 45%
Kobo Audio is an audiobook platform and service offered by Kobo. It allows users to purchase and listen to audiobooks and provides features such as audiobook recommendations, syncing across devices, and adjustable playback speed to enhance the listening experience for users.
5. Overdrive Audio (Libby)
Languages: Any
Stores: 40000
Territory focus: The US, Europe, the UK, Ireland, Netherlands, Iceland, German, Estonia, Finland, Norway, Sweden, Austria, Denmark
Author royalty rate: 45%
OverDrive is a library provider that serves as a representative for 43,000 libraries across 75 countries spanning four continents. It offers libraries and schools a comprehensive selection of ebooks, audiobooks, magazines, and videos for lending purposes. Through OverDrive's service, users can borrow digital content on various devices, including computers, tablets, smartphones, and e-readers.
⚡ PublishDrive Features
In-store featuring opportunities.
6. Bookmate Audio 
Languages: Any
Stores: 8
Territory focus: The main focus is on Russia and South-East Asia, but it also sells in the US, the UK, and Spain
Author royalty rate: 50%
Bookmate is a subscription-based service that offers users a wide range of digital books and audiobooks in exchange for a monthly fee. With a presence on eight platforms, Bookmate primarily targets the e-reader markets in Russia, South-East Asia, and Spanish-speaking regions, boasting an impressive user base of 6 million active readers.
⚡ PublishDrive Features
Occasional promotional opportunities for Russia, Indonesia, and the Philippines
7. CNPeReading Audio (PublishDrive Exclusive)
Languages: Any
Stores: Thousands of digital libraries
Territory focus: China
Author royalty rate: 60%
CNPeReading provides audio content to thousands of libraries in China and in the East Asian region.
⚡ PublishDrive Features
Occasional promotional opportunities for Chinese libraries.
8. Findaway Voices
Languages: Any
Stores: 35
Territory focus: Worldwide
Author royalty rate: 36-40%
Findaway Voices is an audiobook aggregator service that sells audiobooks to retailers like Barnes & Noble, subscription services like Spotify and Scribd, and digital library providers like Bibliotheca and Odilo. 
⚡ PublishDrive Features
Occasional promotional opportunities.
9. Gardners
Languages: Any
Stores: 9
Territory focus: UK, Sweden, Poland, Denmark
Author royalty rate: 45%
Gardners is a UK-based book wholesaler and distributor and one of the leading international wholesalers of books, eBooks, music, and film. 
⚡ PublishDrive Features
Occasional promotional opportunities for newly released titles.
10. Voxa Audio
Languages: 2 (English, Romanian)
Stores: 1
Territory focus: Romania
Author royalty rate: 50%
Voxa is Romania's inaugural mobile reading app for ebooks and audiobooks, operating on a subscription basis. Its primary objective is to serve the Romanian market by promoting Romanian literature and culture while offering international books in both English and translated into Romanian. Voxa fills a significant void in the Romanian market for audiobooks and ebooks.
PublishDrive, being the first self-publishing platform of its kind, facilitates independent authors in reaching this emerging market. 
11. LazyJoy Audio
Languages: 9
Stores: Dozens
Territory focus: South-East Asia, Europe
Author royalty rate: 50%
LazyJoy is a worldwide digital reading aggregator that collaborates with large (Chinese brand) smartphone companies, unicorn internet companies, and big global content providers.
12. Storytel Audio
Languages: 27
Stores: 1
Territory focus: Brazil, Bulgaria, Colombia, Denmark, Finland, Germany, Iceland, India, Italy, Mexico, Netherlands, Norway, Poland, Russia, Singapore, South Korea, Spain, Sweden, Turkey, United Arab Emirates
Author royalty rate: 50%
Storytel is a Swedish-founded digital subscription service that became the leading subscription streaming service in Northern Europe for audiobooks and ebooks. Users can download audiobooks and ebooks for offline listening and reading.
⚡ PublishDrive Features
In-store featuring opportunities.
13. Empik
Languages: 5
Stores: 2
Territory focus: Poland
Author royalty rate: 50%
Empik, a retail chain based in Poland, specializes in the sale of cultural and entertainment products such as books, music, movies, games, and stationery. It has achieved significant growth and is now counted among the largest retail chains in the country. With over 61% of sales in the Polish market, Empik's revenue exceeds €550 million and demonstrates a positive upward trend. The company has also launched its own subscription platform, Empik Go, dedicated to ebooks and audiobooks.
Conclusion
Learning how to promote an audiobook can prove vital for your income. 
Remember, consistency and persistence are key in audiobook marketing. Combine multiple tactics, track your results, and adapt your strategy based on what works best for your target audience.